Where To Buy Furniture, DIY and Products in the Northern Costa Blanca Region from Alicante to Benidorm and Denia
Buying your holiday home property in the beautiful Costa Blanca area of Spain is an exciting time. It can also be a bit stressful and has a steep learning curve.
You are in a foreign country and things you take for granted in the UK are not as easy to find in Spain, especially if you are based in the UK and are just popping over for days or weeks at a time.
Buying Furniture for your Property
First let's talk about furnishing your dream piece of real estate. If you have got the time (and energy!) to come to the Costa Blanca to choose and buy your furniture yourself, then there are plenty of furniture shops to choose from:
Conforama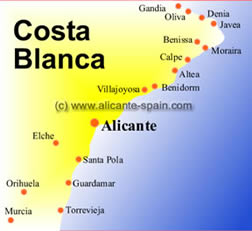 Other furniture stores include Conforama which sells furniture, kitchens and electrical goods. Its ideal for a quick Alicante shopping trip. Conforama can be found on the Ctra N-332 km114 San Juan in Alicante and is open 10am-9.30pm.
Leroy Merlin
Leroy Merlin is a big DIY store, a bit like B&Q. It sells an extensive range of furniture, garden furniture and everything you need for any DIY jobs. It can be found on the Parque Commercial Vistahermosa in Alicante and is open 10 to10.
Casa
You will also find smaller furniture and furnishing shops dotted all around the area. "Casa" is a great chain of shops offering stylish furniture, furnishings and accessories at a great price. Casa can be found in many towns and cities in Spain, for example, there is a store in Benidorm. You should also check out and do your Benidorm shopping local markets for linen, towels, accessories and artwork to decorate your house.
Ikea, Murcia
This is an easy option as you can look through your English Ikea catalogue for ideas and then find the same stock in Spain. It's also under an hour from Alicante and is not hard to find. Remember to hire a van or fit a roof rack on to your car as it's so easy to get carried away! Travelling from Alicante take the A70/A7 towards Murcia and take exit (Salida) 762B – you can see the shop from the main road. It is open 10 to 10, Monday to Saturday. While you're in the area why not check out the nearby Thader Murcia shopping centre and the Nueva Condomina shopping centre (other side of the motorway)? At the Condomina you will find a Primark and H&M for clothes.
Electrical Supplies for your Spanish Real Estate
You will probably need to do some shopping white goods and other electricals for your new property. Electricals can be bought at hypermarkets such as Carrefour and Eroski and also from electrical shops like Media Markt (near Leroy Merlin and Conforama in Alicante) which stock a wide range of domestic appliances. Also department stores like El Corte Ingles (Alicante and Elche) and Galeria Aitana (Calpe) have electrical sections.
Other Electrical appliance stores include:
Expert Fumsmoli – Benissa
Hiper Electro – Ctra Denia Ondara 1km
Milar Giner – Benissa, Moraira and Calpe
Pineda Electro Domesticos – Moraira and Denia
DIY-Stores
Even if your property is brand new and newly decorated, there will be some DIY that you will want to do. DIY tools and products can be found in hypermarkets, your local ferreteria (Hardware shop), larger DIY specialists like Leroy Merlin (Alicante) and Brico House (Benidorm and Santa Pola) and also local builders' merchants such as Bonaire Vincente Ivars Ivars in Benissa and Calpe. Ask your neighbours, builder or estate agents for advice and recommendations.
Garden Centres
You will want to sort out the garden or terrace to your liking. The DIY stores like Leroy Merlin and Brico House and the big supermarkets and hypermarkets sell gardening equipment and furniture. There are also specialist garden centres like:
Agrogarden – A Garden centre which also offers a landscaping service, situated on the Poligono Industrial La Alberca, Avda Benidorm 4, La Nucia.
Buy yourself some gardening books, then ask at the garden centre or look on the Internet for advice on what plants and trees to put in your garden. If you are going to be leaving your house and garden for long periods of time then you will also need to sort out an irrigation system. You could also hire a property maintenance company to look after the house and garden, or put in plants like cacti, succulents or even aloes that do not require much care.
English Goods
Sometimes we all just need a little bit of home, something familiar. You can find English Supermarkets and shops throughout the Costa Blanca region. Here are just a few offering your favourite brands and comfort foods…
For food:
British Cash & Carry – between Benidorm and Villajoyosa
Thomas Green's – Santa PolaIceland Superstore – Benissa Lidls – sell a range of Spanish, German and English type foods. Pricebusters Supermarket – Benidorm (also sells greetings cards, books and magazines).
Quick Save – Calpe, Moraira and Jalon.
Nick The British Butcher – Iceland, Benissa The Little Chop House – Gandia, for meats, pies and fish.Euro Bazaar – JaveaCornish Pride – Orba, for pasties and also English goods at Netlees.
The Shop – in Moraira, sells English food and also has an ordering service for the Argos catalogue.
There are many more English shops, including a Fish and Chip shop in Jalon. Shops like Carrefour and Eroski also have English food sections with an extensive range of products at quite reasonable prices. Many of the Spanish supermarkets or corner shops situated in areas densely populated with English, also stock English goods.
For stationery:
The Spaniards do not tend to send greetings cards so sometimes it is hard to find good quality greetings cards, stationery and wrapping paper, although El Corte Ingles (the Spanish department store) does have a good section. If you haven't got the time to make cards or you just can't do without English cards, books, newspapers and magazines then visit one of the following shops:
Bookworld España – Javea and Calpe
Cathy's Cards – Calpe
Europa Bookshop – Calpe
Tarjetas Spain – Villajoyosa
The Bookshop – Oliva
Large Hypermarket and Centros Commerciales :
A variety of large hypermarkets can be found troughout the entire Costa Blanca:
Carrefour Shopping Centers, Throughout Alicante
El portal de la Marina Ondara – Largest Hypermarket in the area
Centro Comercial La Marina , Finestrat/Benidorm
Many English people in Spain also order goods like books, CDs and DVDs on the Internet from companies like Amazon, Play.com and CD-Wow. Some of these companies offer free postage world-wide. Look closely at DVDs found in Spanish shops to make sure that the audio is also in English.
Do not get disheartened or overwhelmed. Enjoy the experience of buying a home in Spain, treat it as an adventure. You will find anything what you need, though it may take time to find the perfect furniture and to get your home as you want it – you will get there in time. Take on the laid back Spanish attitude – mañana, mañana!