Altea in Spain, one of the most beautiful cities along the Costa Blanca with about 15 000 inhabitants can be reached using the AP7 highway. About 15km north of Benidorm and just south of Calpe, Altea is one of the view villages which maintained most of the former fishing village flair of the past times.
Famous for its church Nuestra Senora del Consuelo or Virgen de Consuelo with its fantastic looking blue roof. One of the view places along the Coast, Altea center still gives you this kind of spanish village look.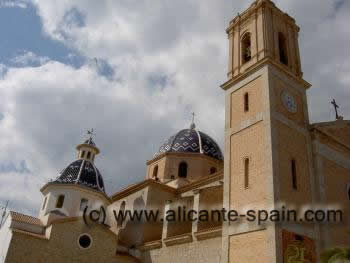 The city of Altea feels a little bit divided due to the passing of the national road N-332 which separates Altea a little bit from its beach and harbor area.
Altea and its Village look
Beside the road you will find shops and Altea car hire offices. Altea, along with the church, the most attractive place around Altea is its harbor with many nice restaurants and bars.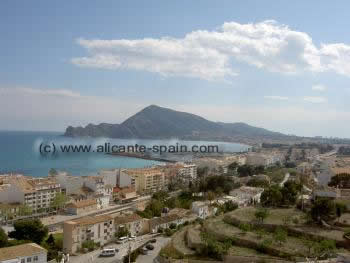 If you visitor stay in Altea, you should also visit the little villages around; especially La Nucia to the north of Altea with its Sunday market is worth a nice day trip.
Altea and the hills surrounding
Some kilometers away from Altea you will find the mountain area of Sierra de Bernia which reaches up to 1130 mt high hills. From that area you will have a nice view on the Altea area and the coastline. All around Altea there is a huge construction boom happening over the past years.
Not so much along the coastline but more in the hills surrounding Altea. Therefore, many construction companies and Altea real estate firms have come up with developing areas around the hills of Altea. Some of the buildings around the mountains are used for Altea hotels and Altea apartments.
The Beach of Altea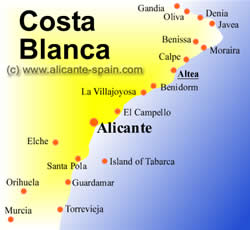 The over 5 km of beaches along Altea are divided into different sections. The Cap Negret north of Altea, followed by the La Roda and the Cap Blanc to the south. Along the yacht harbor you will find the beaches of Pueblo Macarat. Altea beaches are not those sandy beaches as you might expect along the south of the Costa Blanca and Alicante, but they sometimes offer wonderful views and nice niches to stay and relax. On our special page about golf courses around the Costa Blanca, you can find the Altea golf course and many other courses nearby.
Finally, to me, Altea is a worthwhile visit. Due to the mild Altea weather conditions even in summer, the city is a must on every tour around the Costa Blanca. Either visiting Altea town itself or the Altea hills surrounding it, you will love it.
Tourist Information Office Altea
Home
C/ San Pedro 9
Altea
03590
home
Home Phone
:
965 844 114
home