Major cities around Andalusia and the South of Spain
The Costa del Sol, with its well known cities Cordoba, Malaga, Seville, Granada, Marbella and Gibraltar is one of the best known areas in Spain. This website wants to guide you through the beauty of the Costa del Sol and Andalusia.
Malaga one major city along the Costa del Sol with its approximately 550 000 citizens the second largest city of Andalusia, is well known amongst tourists and travelers around europe for its airport. Most travelers use it to reach the final destination amongst them Seville and Granada. Malaga is capital of the province and with its lovely Harbor worth a visit.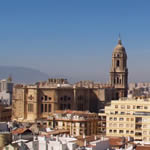 Famous for the pasas, the city is also well known for its superb wines, the cathedral and .. read more about Malaga here…
Granada – together with Cordoba and Sevilla, Granada Spain is considered one of the three precious jewels of Andalusia. Its panoramic views which include the white tipped Sierra Nevada mountain range, rolling green hills and numerous monuments with their rich history, make Granada magical. Granada took up where Cordoba left off in 1256. Architectural wonders of Granada – The Alhambra or Red Palace is without a doubt the most well-known monument in Granada, Spain, and practically all over the world. We will start our excursion..read more about Granada here…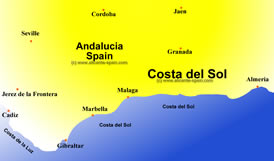 Cordoba Spain – emblem of the tolerance and comprehension for many centuries among three religions (Jewish, Christian and Muslim ) offers unlimited surprises ranging from an intense past history to an incredibly artistic entertainment never seen anywhere else before. Cordoba, one of the eight provinces, situated in the Autonomous Community of Andalucia, was built on the shores of the River Guadalquivir, flowing from east to west. Its location in a… read more about Cordoba here…
Seville, symbol of Spain by public opinion, is the capital of Andalucia. Opening up before our eyes is the height of the Arab culture in all its splendor. One surprise after another is manifested as we parade around the enchanting narrow streets of Seville. There is so much to see, learn, feel and experience that we are obliged to dedicate a few days to visit this ideal city. Following along the same line as all the other areas of Andalucia, Seville is… read more about Seville here…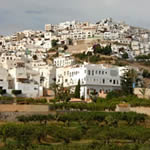 Almeria – When we talk about Almeria Spain, we must not only think of the city, but its whole province made up of small but very important towns: Roquetas de Mar, Mojácar, Tabernas and Carboneras. Like all of Andalucia, Almeria or Al-meriya (the mirror of the sea) as it was first called in Arabic, was dominated by the Arabs, under the leadership of the dynasty Omeya. During this dynasty, Almeria grew considerably in all aspects, especially as a military port and later on as a fishing port in the 9th c. Then, in 1489 it was conquered by the Catholic Kings and started its decline, as much did all of Andalucia, when the Muslim population abandoned this area in 1610. Once again, in the 19th c., Almeria had a betterment in its population and economy but then there was a shift of its inhabitants to Argelia, and the industrialized cities of Catalunya and Seville. But, as we have seen in all of Andalucia, the Arab architecture and culture still proudly shows through… read more about Almeria
Marbella, if literally translated, would mean Marbella Spain – Beautiful Sea, which is exactly what you can see all along its 26 kilometers of coastline from Guadalmina to Cabopino, about 60 kilometers west of Malaga and to the north of Marbella its historical and solemn Sierra Blanca mountain range… read more about Marbella