The city of Alicante Spain!
Alicante, and it's wonderful boulevard with palm trees and shopping streets, is one of the most well-known towns along the Costa Blanca. Known for its miles of sandy beaches, Alicante is a starting point for thousands of tourists every year.
Famous for its excellent weather, the city invites you to take a trip along the coast or to the wonderful island of Tabarca. Along the Alicante harbor you find beautiful long alleys for nice relaxing walks, enjoying the palm trees and the mild climate.
With many historical buildings around the entire city, Alicante offers countless sightseeing attractions, from cathedrals to churches and of course a wonderful harbor area.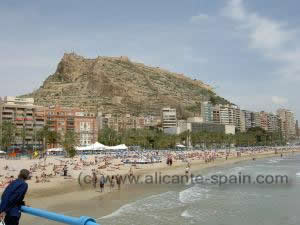 Additional to sightseeing, direct from the harbor area, a long wide sandy beach leads its way up to San Juan. Just drop your towel on the sand and enjoy a wonderful day in the sun.
During summer time, Alicante with its Airport, is a starting point for many Costa Blanca tourists, while during the winter months tourists and residents tend to live along the coast in places like Benidorm, Calpe and Denia.
Alicante's location: The Costa Blanca lies on the east coast of Spain. to the south is the Costa Almeria and to the north, the Costa Dorada. Alicante has about 340 000 inhabitants and lies directly at the Mediterranean sea.
The Alicante weather in winter is around 16 ºC. In summer the average is around 32 ºC. Alicante time difference to GMT + 1 hour
Language in Alicante: Two official languages are spoken. Spanish and Valencian, but you will get almost everywhere with English and/or German.
Tourist Information Office Alicante
Home
Rambla de Mendez Nilnez 23
Alicante
03001
home
Home Phone
:
965 200 000
home