The city of Torrevieja lies about 50 km south west of Alicante. You can reach Torrevieja via the road N 332, a wonderful road along the Costa Blanca. If you have some time discover the beauty of the area via this road – you will love it's views. Torrevieja marks a kind of language line between the traditional valencian/catalan in the north of the costa blanca and the spanish wide castellano spanish.
Further in the south you will find more and more "spanish-only" speaking people,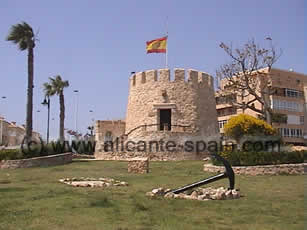 Torre del Moro, north of Torrevieja
while the area of Torrevieja and upwards is usually more bilingual (valencian and spanish).
Torrevieja Area's Salt Lakes
The entire area around Torrevieja and Orihuela is famous for their salt production. Huge salt lakes surround the road down from Alicante.
It is impressive and fascinating every time I see the huge salt mountains producing annually more than half a million tons (it makes you respect your way you will use your salt and pepper next time). So if you visit the area of Torrevieja spend some time on your way to it.
The city get's its name from an old tower (old=vieja ; tower=torre), was first mentioned around 1800. It became famous in 1802, when it took over the salt administration from Orihuela.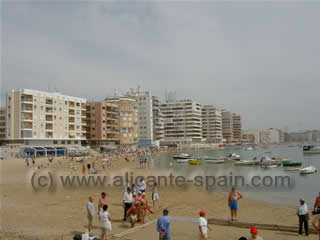 One of the many sandy beaches in and around Torrevieja
Apart of the salt industry, tourism and fishing keep the city alive. The harbor surrounded by many Torrevieja hotels, gives home to 300 fishing ships and over 900 private sport boats. A wonderful view especially when sun sets.
From a sightseeing point of view you best start your way exploring Torrevieja by foot beginning at the harbor. Along with Church of "la inmaculata conception" a visit to the museum of sea and salt (museo del mar y sal) and the fish market.
On our last visit, we were lucky and just came by when the morning auctioning of fish took place. Wow that's a crowded event :-).
Apartments and Real Estate
Apart of traditional holiday tourist during summer, Torrevieja has huge british and irish community similar to Benidorm. The city is full with pubs and restaurants, both spanish and European style. Looking for Torrevieja apartments will most of the time lead you around the beaches of the city where huge apartment building have been built.
In case you plan to live around the area Torreviejas real estate market is as vibrant as the fish market along the harbor.
| | |
| --- | --- |
| | |
| Harbor area with long Palm Tree alleys. | |
Practical Tips on your Torrevieja trip
In case you look for a golf course or Torrevieja golf club around, please look at our golf course list list and maps here. Current Torrevieja weather can be found here.
If you plan to spend your holidays in or around the Torrevieja area, make sure you rent a car. Torrevieja car hire companies offer car pick up and drop at Alicante airport which you would like to have. Booking your hotel or apartment for your holidays check the internet before you plan to see the area. It is not advisable to come to Torrevieja during the summer period without a reservation in hand.

Tourist Information Office Torrevieja
Home
Torrevieja
03181
home
Home Phone
:
965 706 159
home