Benissa is staked out right on the water front and has grown to over 9,500 inhabitants. It is found between Valencia city and Alicante city with its nearest neighbouring town to be Calpe and easily communicable with other places like Benidorm, Altea, Denia and Torrevieja using either the national highway N/332 or the Pay highway AP-7, and other public transports. Its excellent climatic conditions year round has given it a beautiful landscape which many tourist take advantage of.
It has over 4 kilometres of coast which has proportioned it with a wide range of activities like quiet coves hidden among pine trees or beaches found after climbing done a small cliff.
Some of these hot spots are; el Abogat, el Baladrar, Els Pinets or La Fustera. Look for them!
Benissa is rich, rich with monuments. As I strolled down the centre of the historic area,I felt as though I had come upon a huge museum made up of gorgeous buildings and narrow streets that spoke to be about its history. I started my adventure at the Portal Square.There I found a very old hospital that had been built for the poor in 1790. Continuing down until the Purissima Street, I found an old church which had the appearance more of a fortification from the 14th century with a Neo-gothic style. On the right side of this same street there are two noble buildings where there is a branch of the university called Casa Andrew.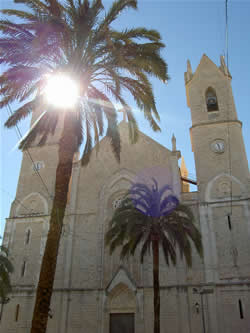 A few houses away, I saw the oldest building in Benissa – the Lonja ( or old trade building) from the XVI century where on the top floor trials were held and on the lower floor important business transactions were carried out and is now the Ethnological Museum.
Benissa In a Class By Itself
Going back a little and heading for the Angel Street and then onto Desamparados Street, I came across the most prestigious area in Benissa where noblemen had their homes, showing off their family shields, majestic balconies and beautifully laced wrought iron rails.
On Saint Ann Street there is the Riberero Monument dedicated to all the natives of Benissa who had to make sacrifices and leave their home town to go to Valencia to find work in the rice fields and plantations.
In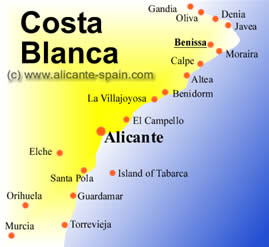 the Jaume I Square I was completely absorbed by the enormous dimensions of the Cathedral of the Pure Mother Mary, symbol for Benissa, its patron Saint and above all, made by the people from there. Its local festivity for their patron saint is the fourth Sunday in April.
Every town and village, no matter how far or close they are to each other has a special dish for the hungry to try and Benissa is no exception. here the specialty, being true to where it is located, is a stew made with octopus which should be reserved before hand. And if that does not convince you, one of the rice dishes will definitely fill your tummy, accompanied by a good local wine.
Tourist Information Office Benissa
Home
C/ Francisco Sendra 2
Benissa
03720
home
Home Phone
:
965 732 991
home
Website
:
Visit Website