Equipping your home around the Costa Calida and the Southern Costa Blanca
Where to do the Shopping for your Home in Murcia and around Torrevieja ?
The Costa Blanca and Costa Calida in Spain have become one of the most popular destinations amongst the Foreigners in which to buy a holiday home. The beautiful sandy beaches and year round sunshine present an attractive package to those looking to escape the rain soaked months in Northern Europe.
Shopping for Furniture around Murcia and Torrevieja
There are many possibilities for furnishing one's home around the southern Costa Blanca and Costa Calida. Whilst some choose to import furniture from their home country, it often works out more economical to source the items from Spain itself. From simple flat pack solutions that arrive on a lorry from Ikea in in Murcia, to hand-crafted bespoke furniture produced by experienced carpenters, every need can be catered for when designing and furnishing your home.
For those wishing for totally unique furniture designed entirely with your new home in mind, Will Guest is a qualified carpenter with years of experience in designing quality furniture. Visit his website to see his portfolio and arrange for a quote (willguest.com). One of the quickest and simplest solution is offered by The Lighthouse Company (lighthouse-spain.com) where you can but an entire home package that will be delivered and installed by their team to houses right across Murcia, Torrevieja and the Costa Blanca.
Two other excellent home and garden shops are:
Home Comforts, Unit 12, Filton Commercial Centre, Los Balcones, Alicante
Home&Living, San Miguel d. Salinas Ctro Comerc Galan 4, S. Miguel d. Salinas, Alicante
where you can purchase all of your indoor and outdoor furniture.
Bed linen in Spain can often present a tricky problem as their standard sizes differ to those in the UK. The Spanish often also sleep with Bolster style pillows in bed as opposed to separate ones that the British might be used to. In order to avoid problems such as this, The Bed Centre in Calpe (northern Costa Blanca) provides English beds and linen to all of the Costa Blanca.
Supermarkets, Shops and Markets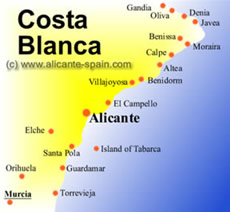 The Costa Blanca caters extremely well to its non-Spanish speaking residents. There are a whole host of English supermarkets such as Del Boys in Guardamar, Coolies Supermarket in Algorfa or Johnsons which is located at the Citris Centre in La Florida. You are able to pick up all of your English favourites in these shops so you can leave your HP sauce at home. Throughout your shopping in Alicante you will find Carrefour hypermarkets that contains a very large international food section.
Markets are a popular way to shop on the Costa Blanca, where all sorts of items are sold from clothes and shoes to antiques and Spanish gifts. In the Old Town area of Alicante a market takes place on Thursdays and Saturdays there is also one in Torrevieja in the New Torrevieja Urban Area every Friday. Market owners will enjoy a bit of bartering with you despite the fact they sometime pretend to speak no English 🙂 !