List and map of clubs from Benidorm to Torrevieja One of the most often received questions about the Costa Blanca we get from tourists and local residents is about where to find a golf course near Benidorm, Altea, Torrevieja or any other cities around the Costa Blanca.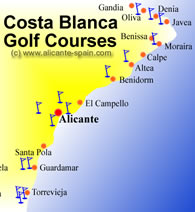 In the following find a list of all golf courses around, divided into
and
Golf around the Northern part of the Costa Blanca
While Gandia has its own small 6th hole golf course, the most well known one around is the Oliva Nova golf course.
Designed 1995 by Severiano Ballesteros, the golf resort south of Oliva is one of the best courses at the Costa Blanca. Open all year, the 18 hole golf course charges approx. EUR 75 for the green fee. The entire area is more like a golf resort with hotels and permanent golf property to buy and rent. The ideal place if you want to spend a perfect golf week in Spain.
Oliva Nova Golf – Club de Golf Oliva Nova
Urbanization Oliva Nova Golf,
46780 Oliva
+34 962 857 818
Denia golf course
From fellow Spanish world class golfer Jose Maria Olazabal comes the next 18 hole golf course. Designed in 1990, it offers a demanding 18 hole golf course and a driving range with over 20 bays. You find it around the village Jesus Pobre near Denia. Leave at exit 62 of the autopista AP7 and head in direction towards Denia and take a right to La Xara and Jesus Poble. It's one of those clubs that should not be missed.
Club de Golf La Sella Denia
Alquería de Ferrando s/n
03749 Jesús Pobre-Dénia
+34 966 454 252
Golf in Javea
Just outside of Javea ( Xabia ) in direction towards Benitachell (Benitatxell), you will find the next golf course at the Costa Blanca. Being one of the smaller 9 hole golfcourses, it might be just the right kind of variety you are looking for, when you think you have played "them all". The two additional putting greens and the twenty bay driving range offer enough room to practice your golf swing.
Club De Golf De Javea
Ctra. Benitachell 4
03739 Xabia / Javea
+34 965 792 584
Moraira Calpe Golf in Benissa
For those of you who spend their holidays or live in Calpe, Moraira, Teulada or Benissa, the golf club Lfach would be a good place to start golfing at the Costa Blanca.
As a 9 hole golf course, it offers a spectacular view over the coastline to the Penon de lfach in Calpe ( a huge impressive rock at the bay). With one putting green, it is one of the smaller courses around. Make sure you give it a try when you are around the area. You find the golf club at the round from Moraira to Calpe after about three km at the Urbanization of San Jaime.
Club de Golf Ifach
Urbanización San Jaime
Ctra. Moraira-Calpe, km 3
03720 Benissa – Alicante
+34 966 497 114
The Altea Golf Course
Heading southwards on one of our little maps of Costa Blanca golf courses, we reach the golf club of Altea. A 9 hole course just like the one in Calpe, with a five bay driving range. You find it in the part of Altea LaVieja ("Altea the old"), just after leaving exit 64 of the autopista AP7. Simply follow directions to Altea la Vieja and you cant miss it.
Club de Golf Don Cayo
Urb. Sierra de Altea Golf
03590 Altea la Vieja
+34 965 848 046
Golf courses around Benidorm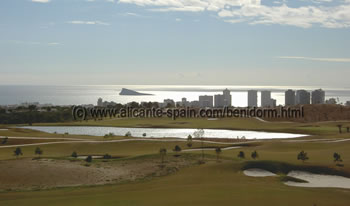 Designed by Nicklaus Design, the Real de Faula Benidorm golf course is one of the best known around the Costa Blanca. Lying a bit uphill from Benidorm it allows an impressive view over the beach and city itself. Real de Faula has two very different 18 hole courses. The 300 meters driving range can host up to 60 players. Various practice areas like putting green, approach green, bunker. Should contact and book in advance, especially during high season.
Real De Faula – Golf
Av. Eduardo Zaplana Hernández-Soro Partida del Moralet
03500 Benidorm
+34 966 813 013
Golf in and around Alicante
A bit north of Alicante, on the road between Busot and Bonalba, lies the area of bonalbagolf with its 18 hole golf course is located in among a lovely landscape. Over 3000 houses, villas and beautiful resorts are created around this Alicante golf ground. The perfect location for a relaxing holiday with all its amenities such as a Spa and a gym. The golf course itself is 6367 meters long and allows a breathtaking view over the Mediterranean Sea.
Club de Golf de Bonalba
Partida de Bonalba, s/n
03110 Mutxamel
+34 965 955 955
The Alicante Golf is the club closest to where we live. It has been designed by Severiano Ballesteros in 1998. Located at the beach of San Juan a northern suburb of Alicante. It is a great golf course, but has one really big disadvantage: It is very difficult to be found. The amount of emails we got over the past years on: Where is the Alicante Golf course located? or How can I get to the Alicante golf course? made me think that it is worth writing a brief description for you here:
Using the autopista (motorway) AP-7 you exit at No.68 and take the first roundabout directly to the PLAYA of San Juan. Do not get confused and go to San Juan, because San Juan is just the little village about 3 km inside the coast. You need to head for beach of San Juan or "Playa de San Juan". Crossing the next 2 roundabouts you are right there. Hope this helps.
The golf course itself is surrounded by lots of newly build houses. It has been a large area of golf property development around that area, which make the course kind of lying in between villas feeling. However, it's really a lovely place to hit a nice round of golf. Highly recommended, not just because I live around the corner 🙂
Alicante Golf
Avda. Locutor Vicente Hipólito, 37
La Condomina
03540 Playa San Juan Alicante
+34 965 152 043
Golf club west of Alicante
The Alenda golf club lies a bit outside of Alicante. Drive the A-31 motorway from Alicante to Madrid and take the Elche / Aspe exit at about fifteen kilometers. The course is located about 15 km west of Alicante. Open all year, it offers a 18 hole very demanding course, two putting greens and a 20 bay driving range. It's one of those little known golf courses worth having played while you are around the Costa Blanca.
Club de Golf Alenda
Autovía Alicante-Madrid, km 15
03670 Monforte del Cid Alicante
+34 965 620 521
A small but fine golf ground south of Alicante
This 18 holes course south of Alicante is ideal to hit a few golf balls at the evening or to practice you swing. With recent course alterations and green redesigns, it has become one of the most interesting golf courses near Alicante. The golf club el Plantio is located a bit south of Alicante. Leaving exit 71 of the motorway AP7, heading to Alicante west and the old street of Alicante to Elche. There after at 3 km you will find this small but very nice golf course.
Campo de Golf El Plantío
Ctra. Antigua Alicante-Elx, km 3
03114 Alicante (close to Alicante Airport)
+34 965 189 115
Golf courses south of Santa Pola – near Guardamar de la Segura
All those of you who spend their holiday south of Alicante, in cities around Santa Pola, Guardamar de la Segura or Gran Alacant, you might want to check out the following two courses for a nice round of relaxing golf around the Costablanca.
Golf & Country Club La Marquesa
Avda. Justo Quesada, s/n
03170 Rojales (near Guardamar de la Segura)
+34 966 714 258
La Finca Algorfa Golf
Ctra. Algorfa-Los Montesinos, km 3
Finca La Rellana
03169 Algorfa (near Guardamar de la Segura)
+34 966 729 010
Torrevieja Golf Courses
Want to go golfing near Torrevieja? Well, you got plenty of golf grounds to choose from. Other than the two previously mentioned north of Torrevieja, there are three more golf courses just south of Torrevieja. All three courses are 18 hole grounds located at the coast of Orihuela. (Don't get confused they are NOT located around the city of Orihuela itself), they are very close to Torrevieja, near the Costa.
Club de Golf Las Ramblas de Orihuela
Ctra. Alicante-Cartagena, km 48
Urb. Las Ramblas · Apartado 28
03189 Orihuela Costa (south of Torrevieja)
+ 34 966 774 728
right next to:
Real Club de Golf Campoamor
Ctra. Cartagena-Alicante, km 48
03189 Orihuela Costa (south of Torrevieja)
+34 965 320 410
right next to:
Campo de Golf Villamartín
Ctra. Alicante-Cartagena, km 50
Urb. Villamartín · Apartado 28
03189 Orihuela Costa (south of Torrevieja)
+34 966 765 170