Sightseeing Tips on Almeria Spain
When we talk about Almeria Spain, we must not only think of the city, but its whole province made up of small but very important towns: Roquetas de Mar, Mojácar, Tabernas and Carboneras.
Like all of Andaluca, Almeria or Al-meriya (the mirror of the sea) as it was first called in Arabic, was dominated by the Arabs, under the leadership of the dynasty Omeya. During this dynasty, the city grew considerably in all aspects, especially as a military port and later on as a fishing portin the 9th c.
Then, in 1489 it was conquered by the Catholic Kings and started its decline, as much did all of Andaluca, when the Muslim population abandoned this area in 1610. Once again, in the 19th c., Almeria had a betterment in its population and economy but then there was a shift of its inhibitants to Argelia, and the industrialized cities of Catalunya and Seville.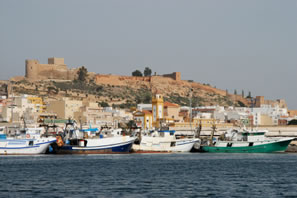 But, as we have seen in all of Andalucia, the Arab architecture and culture still proudly shows through.
The City of Almeria – Places of Interest
Almeria is located in the centre of the bay, facing the Mediterranean Sea at the base of a sturdy mountain which is topped with an astonishing Arab fortress called the Alcazaba, built by the leader of Cordoba, Abd-erRahman III in the X c.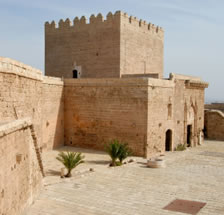 There is also the curious "reinforced" Cathedral (which acted as a fortress facing the sea) and which is visual proof of the two very different styles like the Renaissance facade of the building and Gothic style used for the rest of the construction,erected in the 16th c. but finished in the 18th century. If you plan to make a nice sightseeing vacation it is really advisable to get a hotel close to Almeria city centre.
Almeria province – interesting nearby towns
The province of Almeria is between the provinces of Murcia to the right and Granada to the left. To the east of Almeria city, on the coast we have Cape Gata-Njar which is in the protected Natural Maritime Park.This extends along one of the most beautiful and richest coastal zones of immense ecological value of the Mediterranean. There is an incredible difference in the variety of terrain that we can observe such as sand dunes, deserts or salt lands as well as endless categories of avifauna, nesting grounds and intense marine life.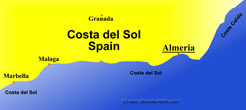 It is an outdoormans wildlife paradise! Good scuba diving facilities and hiking paths due to the fact that there are many inspiration sites that can only be reached on foot or by sea. This also explains the large amount of untouched beaches because there is little or access by road to them. Traveling inland we come to the town of Njar which is known for its clay ceramic. In Tabernas we have a desolate, reddish desert which reminds of the State of Colorado and which has been used for its peculiar scenery in Hollywood spaghetti-western movies. Moving up north is Carboneras, a quaint fishing town protected by the small island of Saint Andrew.
Mojacar
Here there are magnificent fine sandy beaches where you can only listen to silence. There is a stimulating trek along the River Alas where you are surrounded by volcanic rocks, water windmills and the Rambla del Saltador, an authentic oasis. Continuing northward is Mojacar, only 2 kms. from the coast , anchored in the Sierra de Cabrera mountain range built up high on a hill. What a sight with its Iberian and Roman civilizations still present. But even more so is the Arab culture with its narrow streets, squared white dwellings and arched town squares. There are ample beaches and deep alcoves to be explored. Still further north, heading inland, we arrive at the caves of Almanzora ( Cuevas de Almanzora). Once a mining town and main entrance for many invaders, it is nowadays an important Natural Archaelogical Park filled with caves from all eras. Up until about twenty years ago, modern cavemen lived in these caves, the majority of the families having moved out, but there are still some in use.
Some caves have two floors and all the modern facilities desired. Cave houses are bought and sold by verbal contacts, backed up by the community-how nice!
To the south-west of Almeria city is Roquetas de Mar, with its nice beaches, salt lands Natural Reserves and just relax.
Specialty dishes
In each town like Almeria, there is a welcoming diversity of foods, depending on the towns location and production of local products. For example, the mountainous town usually go for stew-type meals which might include blood-sausage stew with potatoes and other vegetables or a ragout of rabbit, a partridge or quail casserole with breadcrumbs made from the rich wheat from the region.
In the coastal towns, we have infinite varieties of fish dishes such as beans with codfish, tuna or small salmon and seafood such as prawns and shrimp. Tasty fish soups or rich made mainly with fish broth. All served with the best wines from the Almeria region or light Spanish beers. For dessert we can savour sweet corn pastries or rich butter pastries. With just one visit to Almeria, you will have the unique opportunity and perfect chance to have experienced the best live show of history and nature and will have acquired a love and respect for life.