Benidorm or Benedorm like some like to call it, located about 45 km northeast of Alicante, just south of Altea is one main attraction along the costa blanca. Despite its skyscraper skyline, it stands for beach and nightlife, Lots of Benidorm nightlife.
Surrounded by up to 1558 m high mountains, Benidorm is perfectly protected against the sometimes cold north winds. Therefore, the weather in Benidorm stays very mild even through winter times.
In Summer, Benidorm is one big party. With more the 1000 Restaurants and over 30 Discos, Benidorm offers nearly everything needed for a "busy" nightlife. One of the 35 000 beds in Benidorm hotels or over 200 000 apartments and accommodation places keep the visitors in town. ( Find our hotel recommendations here.)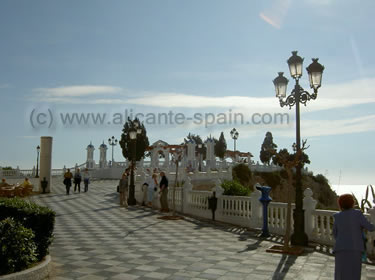 The city is famous for it's huge British and Irish community, similar to Torrevieja.
Benidorm Attractions
Amongst the places to visit is Benidorm's casco antiguo – the old Benidorm city center. Well, not much left from the old center, so only the San Lorenzo, Santa Fez and San Vicente Streets mark the rests of old Benidorm.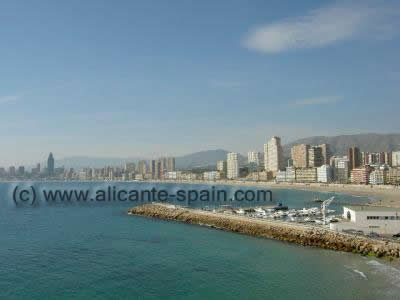 Benidorm's two beaches, the playa de poniente and the playa de levante are about 5 km long in total. Along most of the Playa de Poniente Beach, a main Benidorm road with heavy traffic passes by. So, if you are looking for a quiet and relaxing bath under Benidorm's sun, you should go for the Playa de Levante. In order to find a good Benidorm golf course, see our list of golf resorts around the Costa Blanca.
Other interesting benidorm tourist attractions apart from Benidorm nightlife are the different holiday and theme parks around Benidorm. Even without speaking any spanish words this is real fun. Starting from Terra Mitica to Mundomar and Aqualandia, all parks offer a variety of attractions especially if you are on holidays with kids.
Benidorm Map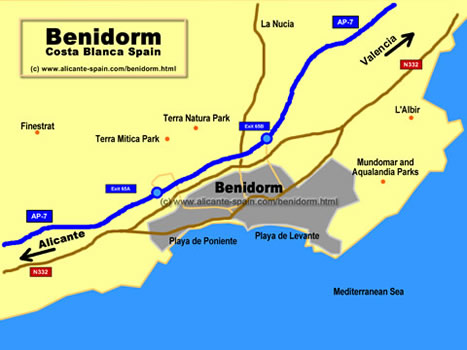 As you see on this little map of Benidorm, various fun and water parks are located around the city. Click here for an overview on the various different Benidorm attractions as shown on the map. ( For those of you who do not know where Benidorm is located, have a look at our Benidorm map and the Costa Blanca Map page)
Benidorm Transport
Traveling around the Costa Blanca, Altea and Benidorm is best made by car. More than 20 local car Rental companies are located in Benidorm. Make sure you check our Benidorm car hire article.
For your initial transport form the Airport to Benidorm you can take a taxi or a bus.(see our Alicante Airport section for details)
The mild Benidorm weather does not even go below 19° C during winter times, which makes the area ideal not just for vacations.
To get from Alicante Airport to Benidorm, you can take the new Benidorm Bus from the Airport or the narrow gauge railway from downtown Alicante. The so called FGV is the little Benidorm Denia train which is also a wonderful way of getting around the Costa Blanca area.
Tourist Information Office Benidorm
Home
Avda Martinez Alejo 16
Benidorm
03501
home
Home Phone
:
965 851 311
home