We did a short Alicante car rental test to compare some of the major internet companies on Alicante offers. The result will obviously depend on your needs of the car and the time of the year you come to the Costa Blanca. Make sure you check pricing for Alicante car hire before you decide which company you choose. Use the internet and your local travel agency and compare the offers on car rental in Alicante.
Here are the results of our Alicante car hire comparison:
Alicante Car Rental Test Outline:
Hiring a vehicle for the months of May 2012 – 5 days – Economy Class – with AC
(Test performed 24. Apr 2012)
| Car Hire Company | GBP | Car / Details |
| --- | --- | --- |
| auto-europe | 43 | Ford Fiesta 2dr |
| holidayautos | 47 | Holiday Autos/ Opel Corsa 2dr |
| ebookers | 49 | ebookers selection/ Peugeot 207 or Renault or similar |
| priceline | 53 | Carhire3000/ Ford Ka 2dr |
| expedia | 55 | Record/AVIS / Opel Corsa |
| opodo | 56 | Europcar / Kia Picanto |
Results on the Cheap Rental Car Test:
Our first choice for a cheap Alicante car hire would be split between the local specialized Alicante rental companies and auto-europe . They are cheap, the online booking procedure is simple and the website is really fast. Second choice would be holiday autos which is a very established car hire company. Ebookers would be my third choice as it seemed to me they do go for a local car rental hosts.
Quick Tips Before Hiring A Car
Up until last year, we hired a car at Alicante airport every summer during our vacation. I guess it is pretty much the same all around Europe on how to rent a car. So allow me not to go into it.
But, I found some special issues which you might consider on your next rental car in Alicante:
Air Condition
Starting from April until November temperatures can be up to 40 C. Even now (in March) we already had days with 28 C. Needless to say that either air condition or opening the window manually are the two choices you have. (I go for the first option 🙂
Baby/Children Seat
If you are travelling with a baby or child (we did over many years) you should really consider bringing your baby/child-seat with you. Sure, you can hire them with your car – but we tried this twice – and always got just dirty and insecure seats. We are certainly not the only one, because whenever I wait for my luggage at the airport I see people carrying there baby seats. So don't care if it means a little bit of hassle – for your children safety it is worth it!
Extra Driver
It doesn't matter if you booked an extra driver at home – make sure at the car rental desk that they got the extra driver registered. If you and your partner want to drive the car – it must be in the papers you sign at the airport – (it does not matter what you might have ordered at your travel agency).
My wife and I had exactly this problem some years ago. So – please double check, if the extra driver is in the paper.
Booking at Home
Please make sure you book your car via your travel agency or via an internet travel agent. It is cheaper and easier, as particularly during summer season car rental companies are heavily booked. Book your car from home – before you travel to Alicante.
Fuel Included
This topic is a big big controversy when you hire a car. Most rental companies provide the car to you with a full gasoline tank. They ask you to return the car with an empty fuel tank. As a result they charge you for one full fuel load on your car hire bill. Now, all would be fine if this would be really feasible. Since its literally impossible for you to return the car "empty", but you are going to be charged a full load of gasoline, you will certainly pay extra for non-consumed fuel. Every company handles this differently, so you might want to ask and clarify this beforehand to avoid any surprises.
>> Click here to see our detailed article on fuel policies of car hire companies and how to find the right one BEFORE you book your car.
Driving in Spain – Some Special Regulations
Driving rules in Spain are most likely different than in your country. Here are some things you should consider before you start your car:
– If you are wearing glasses to drive a car, you need to have a extra pair of glasses with you.
– Watch out in roundabouts. The Alicante, Benidorm and Torrevieja areas along the entire Costa Blanca is full of roundabouts. Depending on which country you are from, you might not really be used to it. Please take special care.
The following car rental companies have permanent Alicante car hire offices at the airport: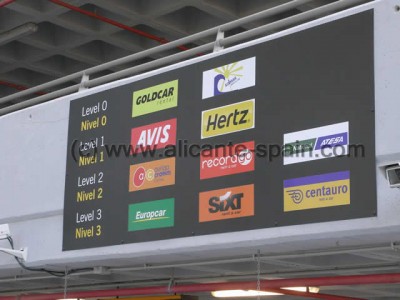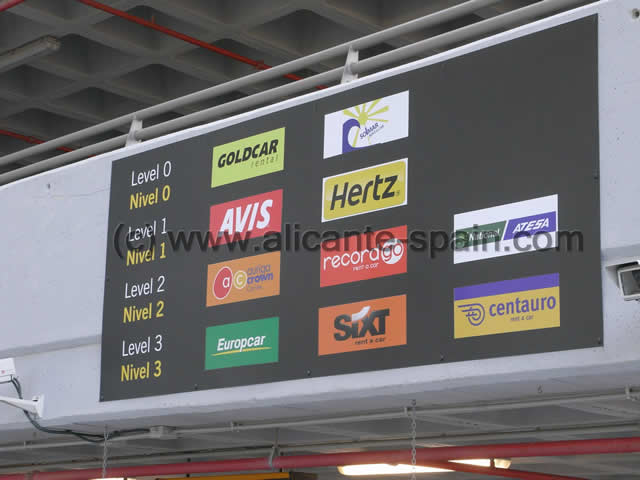 Finally, please have a look at our Alicante airport car hire parking plan, on how to find your rental car company at the airport. See where you will find the counters, offices and the parking lots where you can pick up your car. Full of information about major and local companies who offer car rental in Alicante.