Where To Eat in Benidorm
Benidorm has so many fantastic restaurants, it's hard to pick five of the best, but here are our 5 recommended Benidorm restaurants.
Thanks to various readers of this website as well as helpful remarks of friends and family, on their favourite restaurant in Benidorm who made this little Benidrom restaurant guide possible.
Kataria Gastronomica
Avenida de Europa 5, Avenida Mediterraneo 13, 03503 Benidorm
Tel. 0034 966 831 372
Kataria Gastronomica is a fabulous restaurant in the Levante area of Benidorm town, just look at the photos on their website to see the truly mouthwatering food. This restaurant is a stylish trendy restaurant with a designer feel offering an à la carte menu with traditional "Alicantino" dishes. The food is beautifully presented and is cooked and prepared by award winning chefs. Their menu has been described by some as being "avant garde" and is well worth sampling. It is easy to make a reservation by booking on-line on their website or by phoning them. They are open for lunch 1.30pm-3.30pm Monday to Saturday and then 8pm-11pm Monday to Thursday and 8pm-11.30pm on Friday and Saturday. Kataria are also open on Sundays 9am-5pm and then 7pm-11pm.
Tiffany's Restaurant Benidorm
Avenida Mediterraneo 51 – Edificio Coblanca III, 03500 Benidorm
Tel. 0034 965 854 468
Tiffany's Restaurant is well known as one of the best restaurants in Benidorm and certainly not one to be missed. The menu is rather expensive but is perfect for a special occasion. Tiffany's offers a Mediterranean style of cuisine but with a French twist. They also offer many international dishes all served to the relaxing sounds of the piano.
Opening hours are Tuesday to Sunday 8pm- 1am. Please note that the restaurant is closed on Mondays. Tiffany's is a very popular restaurant so be sure to ring first to make a reservation.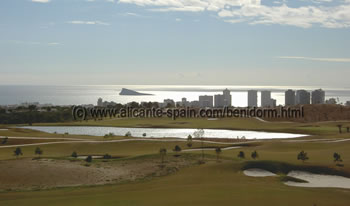 Arroceria – Cafeteria Endavant
Calle Tomas Ortuno 2, 03501 Benidorm
Tel. 0034 965 855 528
Endavant is situated in Benidorm town centre just down the road from the municipal car park on Paseo de la Carretera. It is a modern and stylish restaurant done out with white tables and eye catching orange and red decor. Endavant is well known for its rice dishes, hence the name "arroceria" (ricery) so be sure to try out its famous paella one evening. The restaurant is also open for morning coffee and pastries and at lunchtime for a 3 course Menu del Dia or for Tapas.
Opening hours are 7am-12.30am.
Vincent's Kitchen (also known as Vincent's Corner Pub/Bar)
Old Town Benidorm, off Avenida de los Almendros.
This British pub has been open in Benidorm Old Town since 1965 – you can't miss it. A traditional British pub popular with the English population of Benidorm and with tourists. Here you can enjoy traditional English pub grub at a very reasonable price, all your favourites including Fish and Chips and Bangers and Mash! Food is served all day and the pub also offers entertainment such as live music, karaoke, children's entertainment and sports on TV. There's no need to book as it is a large pub with a spacious sitting area.
Casa Toni
Avenida Cuenca 27, 03503 Benidorm
Tel. 0034 966 801 232
This is the restaurant to visit for real Spanish food at a reasonable price. Casa Toni is very popular with the locals which is always a good sign. Here you will be able to enjoy traditional Spanish dishes with a regional twist. Toni has lived in Benidorm for over 25 years but is originally from Andalucia and so his menu of fresh seafood and sumptuous meat dishes draws on his Andaluz heritage and local Alicant traditions. Eat your meal under the beams laden with hams, enjoy fresh squid and tasty vegetables, get back to the "real Spain".
Casa Toni is closed on Sunday nights except in July and August.
Others Benidorm restaurants worth a visit to are:
Meson Plaza Mayor in Plaza Mayor – Tel. 966 889 935 for its chargrilled meat and tapas.
Spice of Life Indian Restaurant in the Levante area of Benidorm.
The restaurant in the Hotel Agir, Avenida del Mediterraneo 11, Tel. 0034 965 855 162
Pizzeria Veneciana, Calle Alt 3, Levante area. Tel. 0034 965 851 883 – for great Italian pizzas.