Following one of our last newsletters, your very kind response especially on our Costa Blanca 2012 Holiday Planning Tips, we would like to point you to another hidden treasure you might want to visit on your next stay around our beautiful Coast.
Additionally we will cover a couple of interesting questions from readers, which might be of hands-on interest to you too. The little things which we get asked a lot, but never really make it to the front pages our site ;-).
Closing with a real insider story about Cycling in Spain or better said in Alicante we than will ask for your help. And yes, we really need your help on this one.
So let's get started and dive into that "Spanish Summer Holiday Feeling" :
Elche – A Hidden Treasure Around the Costa Blanca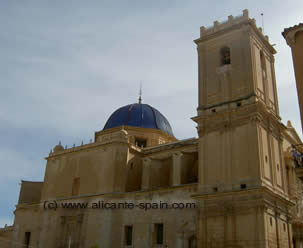 When we get asked about THE most recommended places to visit around the Costa Blanca, we have little choice but quote the obvious. For the northern Costa Blanca area and tourists with family and kids, it is the Benidorm area with its theme/water parks and attractions which make those hot summer days so much more fun.
The "southern Costa Blanca visitors" will most likely want to visit the area of Mar Menor, just to enjoy the impressive natural lagoon – something really unique and breathtaking.
But than, there are those little and not so much talked about gems around our sunny region where "we" go to and take our families on a day trip. Not necessarily non-touristy, but one could say "less – touristy" since they are less known.
[pullquote]City of Elche
"World Capital of Palm Trees"[/pullquote]
My personal favorite for such a family day-trip is the city of Elche.  ( No, the name is not the German word for Elk, it's more spelled like "ELTSCHE", but that's just a side-note.)
The most important thing people do not know about, is that Elche is the "World Capital of Palm Trees". Its palmeral palm tree garden has been declared UNESCO world heritage site. This alone makes the city worth visiting.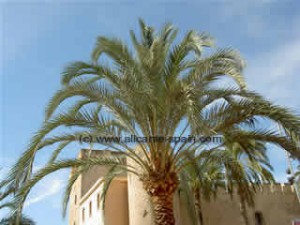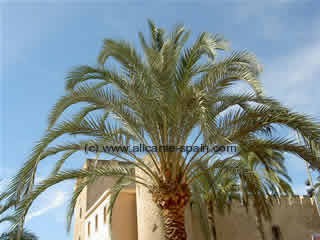 Located about 20 minutes south of Alicante, it can easily be reached from most cities around the Costa Blanca within an hour. And yes, it is really worth a day trip. Just walking around the city center, watching literally thousands of palm trees, while stopping by at the Basilica of Saint Mary and of course – enjoying a coffee at one of the many bars around the city center – yes, I love it…. and you will too! I promise.
I uploaded lots of pictures to our Elche page here (scroll down on it), hopefully giving you a good idea of this impressive Costa Blanca treasure.
Read more about the city of Elche here and make sure you visit the world capital of palm trees on your next Costa Blanca holiday.
Interesting Questions From You – For You

A couple of interesting questions came in during the past weeks. Most of them I answered via our Spain forum over at spaintips.com. As you might find them interesting too, here an overview in case you might have missed it:
– Question from Julia about : Which town is nicer San Juan de Alicante or El Campello? and How "wheelchair-friendly" is the Costa Blanca area? … Look at my somewhat diplomatic response here.
– Ben asked via email if the Alicante airport to Benidorm bus does only stop at the central Benidorm bus stop. I did some calling around and finally got an answer from the Alsa bus company. The Alicante airport to Benidorm bus stops at two different stops in Benidorm. I updated our page with exact bus stop directions in Benidorm here on our site.
– Lois asked a very frequent question regarding taxi vs. bus: For a party of 4 ; is it cheaper to take the taxi or the bus from Alicante airport to downtown Alicante? – Here my hopefully helpful response on this taxi vs. bus fare question.
– Thanks to the latest press release from the Murcia San Javier airport, I updated our flights to Murcia San Javier airport page here. Couple of routes, especially from Murcia to Germany and Mallorca have been cancelled. But still, major airlines are flying into San Javier, especially Ryanair, Jet2 , Easyjet, Norwegian Air, Air Nostrum. Oh, well we are really waiting for the opening (perhaps autumn this year ??) of the new Murcia airport in Corvera to see more airlines flying into the Costa Calida and southern Costa Blanca area.
Is the Costa Blanca Bicycling Friendly ?
An area of special interest over the past months has been cycling around the Costa Blanca. Many readers asked questions about where to get/rent/hire a bicycle or how to best bring your bike with you. In addition to answer those questions individually, I put up a new page called Costa Blanca Bicycling Tips.
Other than just writing an article for you on this topic, I did something slightly different this time. I posted on our Twitter,  Alicante Spain Facebook and Google Plus page a shout-out for help from readers, to find additional bicycling rental addresses for the page. So far, Thanks to various readers namely, Anita, Malie, Derek and Sam, I already added a couple of places where you can rent a bike.
If you know or remember a place where to rent a bicycle around any city around the Costa Blanca, please go here and post it to the comments section of the cycling page. I will add it as soon as possible.
Mini-Poll – How Connected are You?
The fantastic response to our little call for help on the above cycling page really surprised us. We knew that Alicante Spain has already over 920 friends on Facebook and a couple of followers on our Alicante-Spain Google Plus  and  Alicante Twitter , but we had no idea how quick and fast these modern social media "things" work.
This made me wondering how many you are using any of the social media networks regularly. Please help with our little mini poll and let us know.
Well, I hope we gave you couple of interesting tips on what to do and where to go on your next Costa Blanca visit.
If I where you, I would mark Elche as a must-see spot next time you are around our beautiful Coast. :-).
From all of us here, Gloria, Anna and myself;
All the Best from a sunny 19°C Sunday afternoon in San Juan de Alicante,
Hubert
PS: For those of you asking about pictures of our (only) family lemon tree in our front yard garden – stay tuned on our Facebook page here, I will post couple of latest pictures over the next days.