With the new year starting, we are getting an increasing number of questions asking for help with Costa Blanca holiday planning. Ever since we started this website, we noticed an "avalanche" of emails, especially during the first months of the year.
This year – with the ongoing battle of Ryanair and the airport of Alicante – questions have increased so much, that I thought its time to address the issue here in this newsletter. Together with an update on changed timetables for the Torrevieja to Alicante airport bus, we will close with a mouth-watering paella picture sent in from our reader Ann and a little picture quiz we are running on our Facebook page.
But lets start with one of the most news-making stories for Alicante travelers:
David vs. Goliath – or Ryanair vs. Alicante Airport – but who is Goliath?
Ever since the inauguration of the
new terminal building at Alicante airport in past May, a fierce battle has been going on between the airport authorities and Ryanair. To keep the story short, the airport forced Ryanair to board all passengers directly at the terminal building (using ramps), denying the airline the option to board on the field by carrying passengers with buses to the planes. Various reasons – mostly passenger safety – where given, and the airline was asked to pay a significant amount of extra money ( its said about 2 Mio Eur per year ) for using the ramps only at the new terminal building.
From there on the battle was up. Things led to Ryanair threatening to abandon Alicante totally, or reducing its number flights to Alicante airport significantly. While the airport won a court ruling in November, it did not stop there. Ryanair's CEO Michael O'Leary told reporters past October, that the airline made a profit on its flights from Alicante airport, but was not willing to give in to the change of conditions forced upon them.
From the outside – and this is my personal opinion – it looked much like a big EGO-battle which turned into a fight like David vs. Goliath…. with the only question remaining : Who is Goliath?
Sidebar: According to the Spanish business magazine La Expansion, Ryanair is now the largest airline in Spain! In 2011 it carried more passengers in Spain than the state airline Iberia.
Alicante Airport has been the third largest airport for Ryanair in Spain. With over 3,4 Mio Passengers flying to the Costa Blanca capital using the Irish low-cost carrier. Compared to Madrid with 5,1 Mio and Barcelona with 3,4 Mio Ryanair passengers, it has been literally as important as Barcelona airport to Ryanair.
Ryanair started its part of the "battle" and reduced its flights/destinations from and to Alicante drastically. We don't know if the airport authorities and Ryanair are currently negotiating, but as of today – Ryanair has dropped more than 30 routes from its Alicante flight list.
And this – my dear Costa Blanca friends – is just sad news!
In my opinion its time for both parties to find an agreement and at the same time, its a great opportunity for other airlines ( Easyjet, Monarch, Jet2 etc.) to step up and expand there offerings on cheap Alicante flights.
If there is any changes; we will keep our Alicante flights page here updated. You can also use a flight search service like Skyscanner to check out any Alicante flights available from your home airport.
Your Spain Holiday 2012 – Planning Tips
Here in brief – THE – most important pages if you are doing your planning for this years summer vacation around our beautiful Costa Blanca. Its a summary of links I sent to countless readers asking for help over the past weeks:
Update on Timetable of Torrevieja to Alicante Airport Bus
A quick note for those of you who are planning on coming over to Alicante in the upcoming months. The timetable for the bus from Alicante airport to Torrevieja has changed. During the off-season it runs only 6 times per day. We updated our Alicante airport to Torrevieja bus page here accordingly.
From our Reader Ann: Paella – Yummy Yummy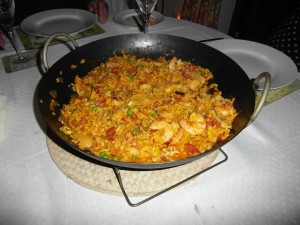 The next paragraph is dedicated to our reader Ann, and her paella picture.
As most of you might recall, a while ago we published a video and a detailed paella recipe on how my wife Gloria's family cooks a traditional valencian paella. The article has become quite famous and our little paella video got over 170.000 views on YouTube so far 😀 .
From time to time we receive pictures from readers – however this time Ann's picture of here homemade paella just blew us away. Okay the paella was done in a wok in a real paella pan (Thanks Ann for pointing this to me), which gives it that mouthwatering look.
So I thought it's worth sharing it here … and make your mouth water… dreaming a bit about the next paella … you might enjoy while on holiday along our lovely Costa Blanca.
Many Thanks to Ann for sharing this picture with all of us.
Our Mini Facebook Costa Blanca Picture Quiz
Ever since our " 94 is not enough Dad " newsletter some months ago, we getting more and more friends on our Alicante-Spain Facebook page. Thanks a lot to all of us who follow us.
From a short conversation on Facebook some weeks ago, evolved the idea of creating a little mini quiz. Nothing fancy, just to see how well you know the Costa Blanca.
Every week or so, we post a picture of a Costa Blanca city, place or sightseeing attraction on our Facebook page here , and let you guess – where or what it could be.
This weeks " Mini – Costa Blanca Photo Question " is about this location:
Do you know where this "building" is located ? – And no, it's NOT a church or is it ? – Please head over to our Facebook page here and post your guess as comment to the picture there. Within a couple of days, we will post the correct answer.
This is all for today. We hope you found this newsletter useful, especially if you do start with you holiday planning.
From Gloria, Anna and myself,
All the Best From San Juan de Alicante,
Hubert
PS: As always the current weather – Saturday 11:30 h – 13°C – sunny.
Sources: La Expansion from Jan 11th
and from Jan 13