Let's do a Costa Blanca bicycling guide page for residents and tourists was the starting point for this article. We had so many different questions regarding cycling on our comments pages, that we thought its time to write an expandable page covering most cycling related topics for the Spanish Costa Blanca.
I try to keep this a question and answer format, where we will always add and edit tips for you:
Q: How do I transport my bike from the airport in Alicante to my hotel?
Can I take my bicycle on any of the official Alicante airport bus lines?

By Bus
Bus from Alicante airport to Benidorm and Bus from Alicante airport to Murcia: According to Alsa ( Spanish bus company running the routes ) you are allowed to take bicycles with you on the bus, but you need to buy the ticket ( a special ticket for bicycle transport ) prior to board. This special bus ticket can not be bought at any Alsa vending machine, meaning you must buy the ticket for you and your bicycle on the web prior (alsa.es).

 By Taxi
Normal Taxis will not be able to carry you bicycle most of the time. If you are arriving with a large bike you will better off to pre-order a taxi/van which will be able to carry and transport your bike. (Use airportalicantetransfer.com for pre-booking)
Q: Where can I rent a bicycle in Alicante, Benidorm, Torrevieja or any other city around the Costa Blanca / Costa Calida ?
A: Here a list of where to rent bicycles around the Costa Blanca in Spain – sorted by city
Bicycle Rentals around the Costa Blanca and Costa Calida
City:
Bicycle Rental:
Alicante
Alabici –  Excellent Local bike rentals. For Residents and Tourists. You need to register first.
Altea
 
Benidorm

Bicidorm – Official bike rental service of city hall Benidorm. Site not in english – very little info. There site is not really "tourist friendly".

Marco Polo Tours  (Av de Europa 5  ; E-03503 Benidorm). Commercial rental service. Easy and friendly.

Benijofar
Bikes4u via Goldenkeyproperty
Benissa
 
Busot
 
Calpe
 
Ciudad Quesada
Cyclogical – Bicycle Shop
Denia
 
Elche
 
Finestrat
 
Gandia
 
Guardamar Del Segura
 
Javea
 
La Manga Del Mar Menor
 
Moraira
 
Murcia
 
Oliva
 
Orihuela
 
San Pedro Del Pinatar
 
San Vicente del Raspeig
Bicisanvi – Official service. Site only in Spanish.
Santa Pola
 
Teulada
 
Torrevieja
CostaBlancaBikeHire – Based south of Torrevieja, incl. delivery and pick-up.
Villajoyosa
 
Do you know a bicycle renting service in any city around the Costa Blanca / Costa Calida?
Q: Is Spain a Bicycle Friendly Country?
Well, this is a kind of broad question really. I can only answer it for the area we are living in ( San Juan de Alicante – northern suburb of Alicante). Here in Alicante and its suburbs things have improved a lot for cyclists over the past years. However we need to distinguish between the sports cyclist who runs its bike hours around the beautiful Costa Blanca coast and the "lets ride to the village nearby" cyclist. The later one is me :-).
For the cycling enthusiast who runs various lovely Costa Blanca cycling tours around, life is still very dangerous. Generally speaking sports cyclist get very often overlooked by car and truck drivers, which explains why I have seen several accidents involving sport cyclists around here in the past years. It could be that it's that dangerous for cyclists everywhere, I don't know, but I just feel that here in Spain – people tend to overlook cyclists a lot more.
For the occasional – lets drive nearby – cyclist, who rides to the town to pick up the morning paper, the area where I live is reasonable well prepared. Being from Germany myself, where riding a bicycle around town is very common, here around the Costa Blanca you find not that many locals using bikes on a daily basis. The hot summer months do really prevent using a bicycle during those months of the year. But also its the still insufficiently prepared bike lanes, which make day by day bicycling not very common.
I personally found the roundabouts here in Spain one of the most dangerous areas for cyclists. Car driver do just not look at you and you get into dangerous situations ever so often.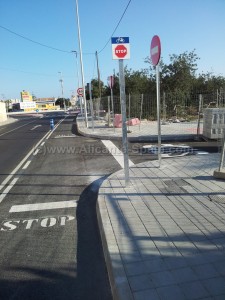 Additionally its kind of funny that here in my town I came across the first "Stop-Sign-for-Bicyles". Normally when a cycling lane crosses a road, the cycling lane gets preference (at least in Germany this is so).
Well not here in San Juan de Alicante. Even the car lane got a STOP sign, they still give NO preference to the crossing cycling lane. It is just a tiny example on how little respect to cyclists is given in Spain up to now.
To sum it up, watch out and drive carefully with your bicycle around the Costa Blanca!
Please send us any comment, link or address to help build this Costa Blanca bicycle info page using the comments form below – we will add it to this page – to make it as useful as possible for all of us!