Having saved on our cheap flights to Almeria, which can be found in abundance either through the web or at our local travel agency, especially if we are travelling to and from the uk.
There are many cities in the uk which connect to the two principal cities of Madrid and Barcelona in Spain with final destination in the beautiful coastal city of Almeria Spain. It is no wonder that the British choose Almeria when looking for a fantastic holiday hide-out to vacation because they have such a great selection of cities to take off from like Manchester, London or Birmingham. The combinations of times, days and incredible low cheap flights to Almeria are very enticing.
We need not worry if we only want to buy a single ticket because we are not sure of how long we will want to stay nor if we wish to depart from one airport in our flight to Almeria from uk and go back to a different one on our return trip. All of this is taken into consideration by airlines such as Viva Air, Aviaco, Sabena or British Airways. These are just a few of the air companies which give us the great opportunity for round the clock services and unbelievable inexpensive Almeria flight options.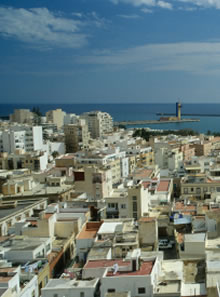 With our savings from having bought tickets on flights to Almeria from the UK or many other places around the world, we can spend this new found fortune on sightseeing tours in the city of Almeria or even more intriguing in the surrounding towns and natural areas protected by the the Spanish government. The province of Almeria is located on the southeastern tip of Spain in Andalusia. Giving thanks to the extensive network of airport transfers from Almeria airport, we can smoothly make our way to coastal towns as close as Agudulcor Roquetas de Mar or a little further away to Nijar-Cabo d e gata, El Ejido, Carboneras or Mojacar. You should also consider to hire a cheap car at Almeria airport.
Cabo de Gata
Aguadulce and Roquetas de Mar are fantastic beach resort areas to spend some relaxing holidays, just toasting in the sun during the day and enjoying a delicious seafood dinner after a short Almeria flight. Nijar-Cabo de Gata is some of the most spectacular natural scenery in all of Spain. A lot of the spaghetti westerns were filmed there. It is made up of natural salt dunes, old gold mines which were exploited by the Romans, white rock coves, ancient arabe reminiscences and intricate handmade products.
Strolling up the Mediterranean coast heading north, we are awed by the little fishing village of Carboneras, taking us back in time with a visit to its castle of St. Andrew from the 16th century. There is also a small fortress tower from the 18th c. where we can observe the harbour´s lighthouse. Still further north, set in the Cabrera Mountain range is the enchanting white washed town of Mojacar. Iberian and Roman influence are obvious and the mystery of the Muslims still lingers. It is graced with over 17 kilometers of pure clean sandy beaches and virgin coves.
Who would want to leave this magical part of Spain? Everyday we discover a new aspect of Almeria and can never decide on when to say good-bye, Thank goodness there are in-numerous numbers of cheap flights from Almeria so we can come back.