An unfolded map of Almeria is lying in front of my eyes and I am awed at what there is to see and what I can learn just by understanding the map. In order to squeeze every drop of information for our full enjoyment of all the pleasures that this Andalusian province has to offer.
Surveying this masterpiece of silent knowledge, we have an important job of learning what all the symbols in the legend of the map mean. It is like a hieroglyphic just waiting to reveal a secret agenda that we should follow to unveil all the history lived in the zone. I would be honoured to turn these signs into written words and share this picture postcard of the map of Almeria with all.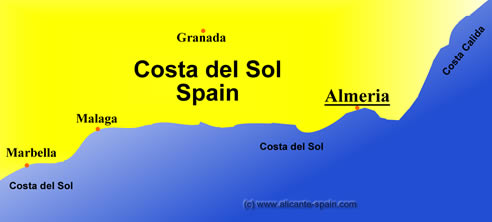 A detailed map of Almeria Spain and how to understand its symbols
The province of Almeria, if coming down the east coast on the Mediterranean, starts by opening out its charming beaches and coves, sometimes only reachable if we have been smart and lucky enough to have got a car hire Almeria spain. There are symbols of the different types of highways and motorways and where to catch them, if we have to pay and where the nearest petrol stations are. In the Almagrera Mountain range we see pictures indicating archaeological mines for those looking for an Indiana Jones experience. Heading westward and crossing over a blue line showing the Almanzora River, the Almanzora caves come into sight. Glancing from left to right at the map of Almeria, I can see many other points where there are even more hidden caves, troglodyte dwellings and red symbols calling us to see castles from the 16th c. and other drawings of majestic churches. We now see a special non continuous dotted line which delimits a government protected natural park. The extensiveness of the park is clearly shaded on the Almeria map.
Interactive Map of Almeria
Coming back to the shore area, we want to be sure to find the best place to savour the local culinary delicacies and pay strict attention to restaurant fork symbols. An even more typical and well worth the drive is to have a meal at one of the beach cabana huts, right on the sand. This is shown on the map with a spoon, a knife and a fork. We ca easily see the black tower structure symbol with light beams to show us a lighthouse which marks the southeastern tip of Spain and probably a nice place to take some snapshots. The best recommended beaches for bathing are marked with a flag: guaranteeing clean, safeguarded beaches. If our desire is to try our luck by chartering a boat, this too is nicely pointed out with the symbol of a white sailboat to tell us there is a yachting club there, little men swimming with tanks symbol means we can go scuba-diving and banks of fish show us we can go fishing for our fresh fish dinner.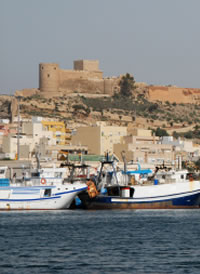 Before we make our way towards Almeria city, we have to change our maps, we will look for different drawn clues so we can think about refugee for the night. Let´s see, there is a tepee symbol to tell us of campsites, a P in a black square to invite us to pass the night in an enchanting Parador Nacional, usually government owned castles, palaces or century old hotels in paradisiac biences.
Getting Around Downtown Almeria
City maps are usually a lot more confusing than general geographical ones. But the map of Almeria Spain is very clearly marked and we can get around without blinking twice. It is wise to get a map which indicates the important road leading to the capital so we can choose where we wish to start our tour. In every city there are so many thrilling places to discover and so little time to do it in. So, locating each and every attraction like museums, historical churches and the best areas to dine and go shopping, to live the nightlife and a comfortable and if possible discount hotel in Almeria Spain is our first task.
The map of Almeria city does not have to be tiresome because the bus routes are mapped out with the bus numbers and streets they pass by and where they stop. If we need to get about quicker, easily visible marked taxi stands can solve this dilema. And wayfaring further away can be achieved by knowing where the railway station is by finding it on the map of Almeria city.