In case you need to pick up somebody from the arrivals area at Alicante airport, have a quick look at the following map to get yourself familiar with where you might best pick somebody up.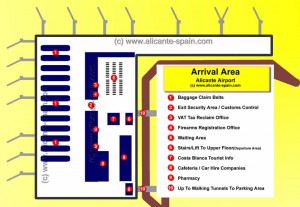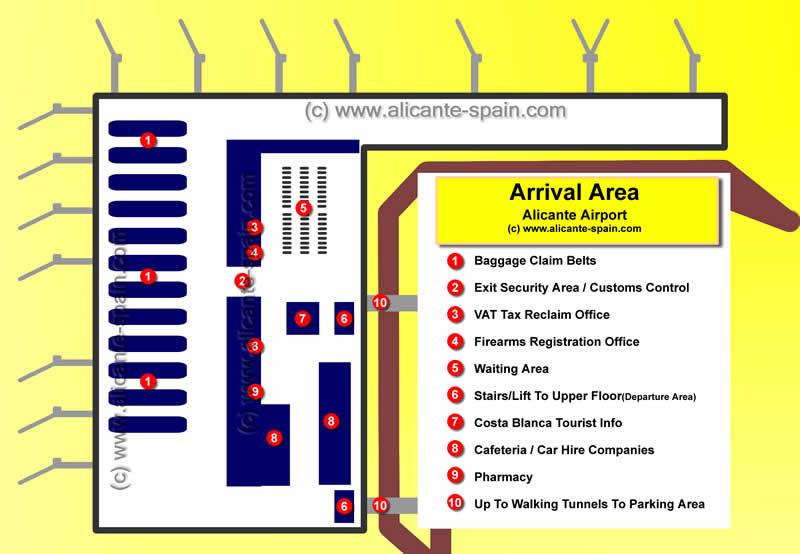 The rather large Alicante Airport terminal building got only one exit door for all arrivals.
So, you cant miss anybody if you have to do a pick-up 🙂 . It is located in the arrival area (Floor 0).
You could park your car right outside the arrival area, but be aware that your car might taken away after a few minutes, since there is no official parking space outside the arrival area.
If I need to pick up my wife or friends from the airport I park in the parking garage. This gives me enough time and no worries in case the incoming flight gets delayed. Park it in the park garage at Alicante airport – best at parking garage level 4 – which leaves you in walking distance of the arrival area.
>> Click here for our detailed Parking At Alicante information.
If you are not sure which road or lane to take when you drive to the airport, have a look at our driving around Alicante airport page here. It should give you a better idea which turn to take.
> Click here for step-by-step driving directions to Alicante airport.
In our special page Alicante airport arrivals here, we provide real-time flight data on incoming flights. Ideal if you want to check out if a flight you are waiting for is delayed or will be arriving in time.
Parking For People With Disabilities
If you need to pick up a handicapped or people with disabilities, Alicante airport is a bit tricky to find the right place to leave your car.
> Click here for details on parking bays for handicapped and people with disabilities.
Site Navigation: Back to Alicante Airport
>> Click here to go back to our main Alicante airport information page.