The concept of service and assistance for handicapped or people with disability at Alicante airport is much better than it was at the old terminal building. Help is available for those visitors requiring:
Wheelchair assistance
Those who are visually or hearing impaired
or anything related to your needs at various service points clearly marked in bright yellow symbols around the airport.
Help For Handicapped and People With Disabilities
(click on the images to enlarge view)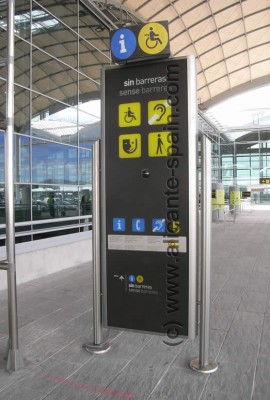 Various help points are located throughout the Alicante airport terminal building where you can call for assistance.
Unfortunately the help points are not marked in english, but signage is clear. Btw if you would like to know "Sin Barreras" means "Without Bars/Obstacles" (literally translated).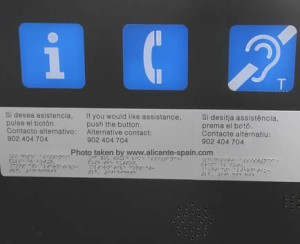 You can also call directly from your cell phone and get help.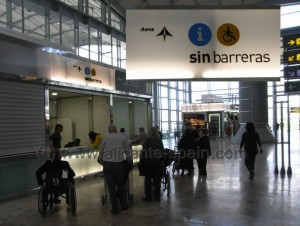 The help desk/counter marked "sin barreras" is located in the departure area of the airport.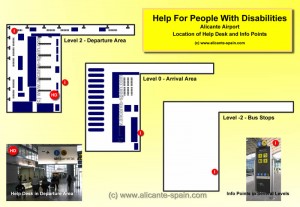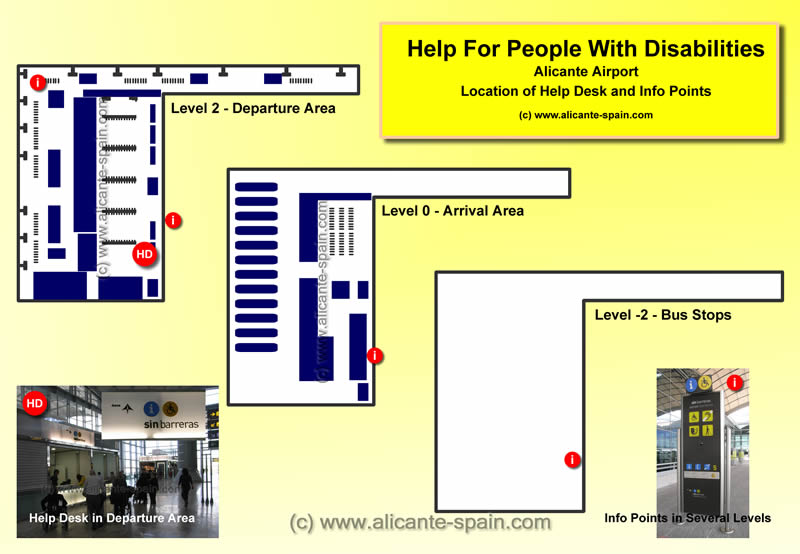 The map to the left shows the location of all info points and the help desk for people with disabilities at the airport of Alicante.
You can click on the image to open it enlarged in a new window – for your reference.
Parking Bay For Handicapped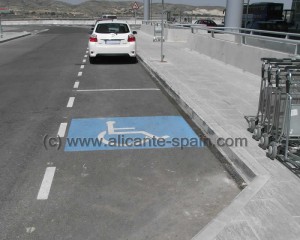 Alicante airport got special parking slots for people with disabilities at all levels of the main parking building.
5-Minutes Parking outside Departure Building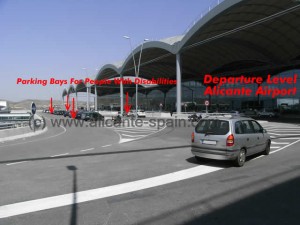 Outside the main terminal buildings departure area, you will find 8 parking bays for people who need assistance.
No parking bays for people with disabilities outside the arrival area!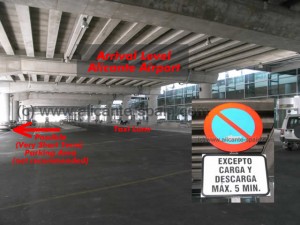 I checked again and still can not believe it 😥 . There is not even a single parking slot for handicapped outside the arrival area.
In fact there isn't any parking slot outside the arrival area. Just a pick-up and drop zone which allows you to stop there for 5 minutes and a "dead space" to the very left of the lane.
I have seen cars parking there, but this is definitely not a recommended place to leave your car, as local police is constantly around the area and fines really high.
For those of you who pick-up someone who needs assistance, I would recommend parking in one of the reserved parking bays for handicapped just outside the departure level or in the main parking building.