Important Customer Service Desks For Travelers At Alicante Airport
Every traveler looks for something different. Other than the usual check-in counters and boarding gates, various smaller but important services are found at Alicante airport. On this page we list most of those special service desks and where to find them.
A Step-by-step overview:
Alicante Airport Services
(click on the images to enlarge view)
Alicante Airport Lost and Found
There is no special dedicated "Lost and Found" desk at Alicante office. Instead lost and found items are handled by an office of the local police ( policia local Elche). The office is located at the arrival area, just to the left of the arriving exit, where incoming passengers arrive.
Note we are talking about the local police of the city of Elche, not the city of Alicante, since Alicante airport is part of the Elche municipality. Please be aware the lost and found office is only dealing with items you lost at the airport building itself, it is NOT dealing with any items you lost on the plane. It is also NOT dealing with any delayed or lost luggage from a flight.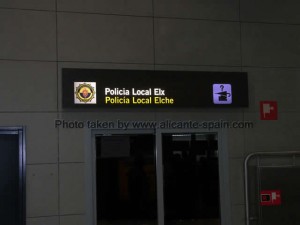 Elche Local Police station/Lost and Found Desk at Alicante airport:
Phone: (34) 966 919 223
Fax: (34) 966 659 218

If needed you can contact them via email: [email protected] (web is policiaelche.org ).
Try and hope that they might understand you if you asking in English, and be not surprised if they get back to you in spanish.
To me the entire lost-and-found handling at Alicante airport looks like a real joke. Nothing organized or prepared for international travellers. People are friendly – but are not given the right facilities to work properly.
If you left or forgot anything on board a plane, your only contact is the airline itself. In this case, walk up to the departure level of Alicante airport, where you will find desks or representatives of all airlines. If your luggage is delayed, contact the lost-luggage counter directly inside the arrival zone and fill in the lost luggage form with them.
Pharmacy at Alicante Airport
Located in the arrival area (lower floor) of the airport building you will find a pharmacy (farmacy or farmacia ). Open from 10 to 14h and 16 to 20h. (I will never understand why they can not keep it open from 8 to 23h)
| Pharmacy at Alicante airport | Telephone |
| --- | --- |
| Pharmacy (open 10h to 14h and 16h to 20h) | 966 919 419 |
VAT – Value Added Tax Deduction Office
To the right of the main arrival door is the office to reclaim your V.A.T. or IVA, what its called in spanish.
Don't be surprised to find the door locked most of time. You need to walk just inside the arrival area and talk to the private security guy there. Tell him you want to speak to the Guardia Civil Fiscal at the Tax Office. He will call them and the will open the office for you.
There is a little sign on the door which tries to tell you exactly that.
Phone – Guardia Civil Fiscal – Airport Alicante : 966 659 908 (better you speak some spanish.. or be patient and speak slowly in English).
Firearms Registration Office at Alicante Airport
For those of you who (hunter etc.)  bring firearms (rifle, gun etc), the firearms registration desk is located just next to the vat tax counter in the arrival area of the airport.
Same as with the above mentioned VAT Tax Deduction office, if you find the firearms office closed walk up to the security guard just inside the arrivals area and tell him you want to talk to somebody in the firearms office, he will help you and call somebody for you.
If you need to call regarding any firearms issues call the above Guardia Civil Fiscal phone number for queries.
Costa Blanca Tourist Information at Alicante Airport
The office of the Costa Blanca tourist board is located just opposite of the arrivals door.
A wonderful source of information, always trying to help you. Ask for a local area map, they used to provide a very good for free.
Car Hire Companies Desks
Right in the arrival hall you will find counters of all major car hire companies at Alicante airport.
>> Further information about car hire at Alicante Airport here.
>> Back to the main Alicante Airport Information page.