Lets look at topic of arriving at Alicante airport, since I guess most of you will be flying in to spend a great holiday around here.
The new terminal building is a wonderful light flooded building. It is the only terminal you will be landing at, since both old terminal buildings have been completely closed down.
Arriving at Alicante Airport
Arrival Area Map
When you fly into the airport you will be leaving your plane and led directly to the baggage claim area. In case any luggage is missing, right there you will find several baggage claim counters (of various airlines) to fill in a form and start any investigating process. ( Read on about my lost luggage experience tips here).
Right after you got your bags and suitcases leave the inner security area, by passing customs control. Here is where normally anybody who will pick you up will be waiting for you.
Arrival Door
Alicante Airport does have only one (!) arrival "door". So there is no way for any confusion. If somebody flies into Alicante, he will come out that door in the arrival area.
View at Arrival Area at Alicante Airport (No.2 on Arrival Area Map)
Getting Picked-Up
If you are picking up somebody from the airport, please see here our Alicante airport arrivals page with a real-time arriving times of all flights landing at the airport.
In case you need to pick-up somebody at the airport we have put together detailed information for you here:
>> Click here if YOU need to pick-up someone at Alicante airport.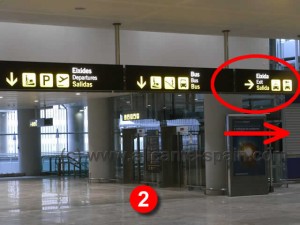 In case you are not picked up at arrival, you have several options to go from here (follow on the above Arrival Area Map):
To Car Hire Desks – Counter of Car Hire Companies
Walk to the right – just 20 meters most Alicante airport car hire companies have their counters there.
>> More Information on Car Rental at Alicante Airport here
To Parking Garage
In case you have already a car at the airport. Go straight to the elevators – one floor up to level 1 – and take the walking tunnels to the parking garage.
>> Find more Tips on Parking at Alicante Airport here
To Taxi Stands
Turn right – and exit the building. The taxi / cabs are right outside the arrival area waiting.
>> Additional information on Taxi Services and Fares at Alicante Airport here
To Bus
STOP – Hold on – wait a moment. If you need to catch a bus, be with me for a minute here and read this carefully:
a) CHARTER BUSSES
You are looking for a charter bus or a bus from your tour provider (e.g. Tui, Shuttledirect, Hoppa etc.): take the elevator down and follow the BUS signs.
b) Local Area Busses:
You are looking for the normal "ordinary" bus from Alicante Airport to Alicante Downtown, Benidorm, Torrevieja, Calpe, Denia, Murcia, Santa Pola, Gran Alacant or Elche : Do NOT follow the Bus signs.
>> Read here where you can board buses to Benidorm, Alicante, Torrevieja, Denia, Murcia, Santa Pola, Elche and other cities around the Costa Blanca.
Lost Luggage and Damaged Baggage – a personal Sidenote
One thing that can always happen to a traveler is damaged or lost luggage. Both have happened to me at alicante airport and both times I was quite happy to work myself around with some spanish. So, if you do not speak any spanish, try to speak English slowly. The ladies at the counter do their best, is friendly and hey, don't worry, she will get things done. They work extremely efficiently.
If your luggage is missing, you go through a standard procedure of filling in a form (which is also available in English), let them know where you will be staying so a driver from Alicante airport can get your luggage to you (usually) the next day.
Do not offer to pick it up on your own – they will deliver – don't worry.
In case you arrived with nothing but your shirt at alicante airport and everything is missing, ask for a survival package. This emergency bag covers at least the basic needs.
I have always found everybody at alicante airport to be very very friendly and helpful!
Tip: Check your luggage for any damage.

It has happened to me many times – and I am not sure why it always happens at alicante airport. (on my outbound to London or Munich I have never had anything damaged).
Check – and double check – particularly handles and wheels seem to get damaged quite a lot. If your luggage has been damaged, just go to the "luggage claim desk" inside the arrival hall. Do not leave the building before! – The counter is directly located 20 ft. away from the luggage belt!
They will take notice of the damage – give you a printed form which you send to your airline afterward.
>> Click here to go back to our main Alicante airport information page.