We are getting closer to our summer holidays. Hopefully you are planning on a Spain or even a Costa Blanca vacation. Perhaps you already booked your hotel and count the days.
In this Alicante-Spain.com newsletter, we would like you to show around "Our" Alicante. Next week we will have some friends from the states visiting us for the first time, so my wife Gloria said "let's show them Alicante in a day". It stroke me immediately, since some years ago when I did write the first edition of our free Alicante travel guide ebook, I included a detailed walking tour around historic old center of Alicante.
Alicante – In One Day – Tour / Free Alicante Travel Guide 5 th Edition Now Available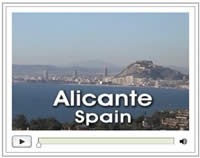 The idea behind such a "one day in Alicante" walk, is simple: Whenever we get friends or family visiting us here in San Juan, we take them to Alicante and show them around. After a couple of tours, I figured a nice way to walk around the old city center, enjoying some of the old monuments and architecture … and leaving enough room/time for a bit of shopping or a nice coffee along the harbor area.
The walking tour around Alicante is ideal for you – if you on holidays around any of the lovely cities along the Costa Blanca. Take the time and get to Alicante for a day… you will definitely enjoy the nice atmosphere on a nice summer day in our regional capital.
The tour is explained in detail in our ebook – Alicante Travel Guide . If you are a reader of our newsletter (as over 25000 people are already), you will find a link to download the free Alicante ebook pdf in the email for this newsletter… or you can download the new edition of our Alicante Travel Guide here.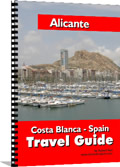 In preparation for this newsletter, we did a full re-editing of our travel guide. Since the ebook also includes a section to get around the airport of Alicante, we updated this part as well.
So here it is, the 5 th edition of our free Alicante Travel Guide is now available for you. Make sure you download it, print it out and take it with you when you walk around Alicante for a day ( or just a few hours ) following a relaxing trail of a local "half-Alicantinian" :-).
( If you are reading this post on our website and are not a reader of our free newsletter, please click here and subscribe to our free email newsletter which gives you immediate access to our three free travel guides )
New Transfer Page for Alicante airport to El Campello, Santa Faz, Mutxamel and San Juan de Alicante
It took me over several years to finally do a detailed page on how to get from the airport in Alicante to El Campello and San Juan ( which is where we live). I apologize for taking so long, but the result was hopefully worth waiting.
Find all the different transport options from bus transfer, tram train, taxi and even car hire covered in a step by step page on:
How to get from the airport in Alicante to El Campello and San Juan de Alicante here >>
For those of you who need to know the best and cheapest ways to get from the airport to other cities around the Costa Blanca, check out the following pages:
Transport options and transfers Alicante airport to Benidorm >> , transfers Alicante airport to Torrevieja >> and
getting from the airport in Alicante to Altea, Benissa, Calpe, Denia, Elche, Gran Alacant, Javea, Moraira, Murcia, Santa Pola, Teulada >>
Mouthwatering Pictures from our local Beach here in San Juan
Generally speaking, I think I am a pretty nice guy. Well, most of the time. Now let me be a little bit "mean" and show you a couple of pictures from our local beach here in San Juan de Alicante, taken yesterday morning… on a nice early morning walk with my lovely wife.
[slideshow id=7]
I just hope you can make it to Spain this summer and enjoy similar kind of beach walks every morning. For those who can not make it, those pictures are not meant to tease you or make you jealous ( which means that deep in my heart I think I am not a really mean person 😉 ).
Summer and Sun – Weather in Alicante and around the Costa Blanca
Just a quick hint for those who are eager awaiting there Costa Blanca holidays and want to know what the weather is like at the moment.
Well, apart of "it's always sunny here in Alicante" might not be good enough for you… so let me quickly recommend our "Current Weather and Weather Forecast pages for all major cities around the Costa Blanca and Costa Calida.
This should be it for today. We really hope you liked today's newsletter and find our little one-day-walking tour around Alicante interesting.
As always, all the Best from San Juan de Alicante,
Hubert
alicante-spain.com
spaintips.com – Spain Forum
PS: To leave a comment or suggestion about this newsletter, please reply to this post in our Spain Forum.
 PPS: Current temperature at 10:40 – Sunday morning – sunny 20°C. 😎