The Hotel Molina Lario is quite a large hotel which is owned by the Gallery Hoteles group. The hotel itself is four stars and located right in the centre of Malaga city centre.
Malaga is a really nice city, everyone is very friendly and there is plenty for everyone to do there. All of the buildings are amazing, and shopping is brilliant. You are also located very close to the Cathedral which is a great view. The hotel is amazing and has everything that you could possibly wish for, you will be able to enjoy your stay here in peace and comfort! It's well suited to both business trips and holiday trips. The hotel is right in front of the cathedral and is only a couple of minutes away from the Picasso museum and the port of Malaga.
This is a fairly new hotel which has three buildings. Two of the buildings have a 19th century facade but the inside has been completely refurbished. The third building is brand new, these all work together to provide a great hotel smack bang in the centre of the city.
The Molina Lario ( you can heck ricing and availability here… ) has some of the best quality accommodation anywhere in Spain. It has 104 rooms and suites which have everything you could wish for. Every room is very comfortable, and all have satellite TV, mini bar and air conditioning. There are also four junior suites available, and rooms which connect together and can be opened up.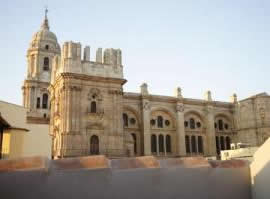 One floor of the hotel is designated to smokers, and there are also plenty of rooms suitable for disabled people.
The guest rooms have a large well equipped bathroom with hairdryer. There is also an in room safe for the protection of your belongings. The hotel has one restaurant which serves an ala carte menu serving both local and international cuisine. The food is very tasty and the setting is perfect. It's a great place to stay to relax. The restaurant is open for lunch between 1:00pm and 4:00pm, and then for dinner between 8:30 until 11:00pm.
The hotel has its own swimming pool and solarium where guests can relax and take it easy. There is also a garden courtyard which is very relaxing.
If you like playing golf then you will also be able to get a discount at local golf courses. There is also a car park available and it's possible to rent cars from the hotel if required. Newspapers are complimentary to guests. Parking is also available if you have a hire car. If travelling with young babies then cribs are available, however to make sure you get one it is important you reserve one at the time of making your booking.
There is a miniature golf course on site, and full size golf courses very close to the hotel where guests can get a discount. There is also boating, motor boating, scuba diving, and ice skating very close to the hotel.