At our families dinner table last night, my wife Gloria and our daughter Anna talked about the day.
Just the usual things on what each of us did and how we will spend the next day (October 12 – which is a National holiday here in Spain).
As word came up, I told Anna that we posted a couple of pictures from the past days on Alicante-spain.com's Facebook page – which suddenly sparked her interest.
So, Dad how many friends have you got on Facebook ?
Well, Alicante-Spain's Facebook page currently got 94 fans or friends or whatever they call it… and "Bummm" here she came:
94 is not enough – Dad!
Anna went on a little "let me tell you (Dad) a bit about Facebook! speech" explaining that She got a lot more friends on her Facebook account and by the way the real famous stars and websites, got thousands of friends.
Okay, so there I was – sitting a bit baffled on our dinner table – speechless how much media sites like Facebook and Twitter seem to have taken part in our kids life.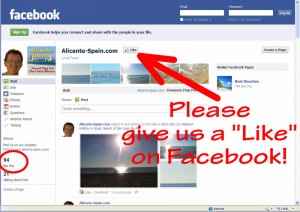 Therefore – and – please help me impress Anna – please head over to our Alicante-Spain Facebook page here and give us a LIKE click to become a fan.
We just need to beat this 100 fan mark – it is really important for my self-esteem as a Dad 🙂 .
News and Updates on Alicante and the Costa Blanca
On the "official" part of this Newsletter, we had several updates and new pages done on Alicante-Spain.com over the past weeks:
New Route of The Alicante Airport Bus to Downtown Alicante
Starting a couple of days ago, the bus from Alicante airport to downtown Alicante ( Line C-6 ), is taking a new route. Finally, after months of shaking my head, they now have the bus stop at the downtown bus terminal, the two most important Tram Streetcar stations and at Alicante's main train station. Bravo! to the local bus company Subus for finally making this changes.
>> I updated the route map and listing of bus stops on our Alicante airport to Alicante city bus page here.
Video , Photos and Map About Gas Stations Near Alicante Airport
Over the past months we got various questions from readers who rent a car at Alicante airport and needed to return with a filled gas tank. What seemed to be easy at first – turned out to be a challenging question. There are several gas stations close to Alicante airport, there is even one right opposite to the airport area, but you can not drive there.
So I did a bit of a "wild" video showing you how to get to this petrol station – without loosing your mind. The article contains additionally a map and detailed photos of the petrol stations near Alicante airport. I really hope it helps you next time you need to return a rental car at the airport.
>> Click here for the " wild " video , map and details explanation on how to get to a petrol station near Alicante airport to return your rental car
New Article and Video: Fuel Policies of Rental Car Companies Explained
Related the above topic, I setup a explanation page on fuel policies of car hire companies. This is for those who asked about what "pickup full – return empty" or "pickup full – return full" means when you rent a car.
Since several of you have asked how to find a rental car which offers "pickup full – return full" as policy, we created a separate page about fuel policies and a short video on how to find the fuel policy of rental car companies BEFORE you book your car hire.
>> Explanation on Fuel Policies of Rental Car Companies and Video on how to find out about the fuel policy BEFORE you rent any vehicle.
These pages together with some readers questions answered in our Alicante-Spain comments pages where the important updates on our site. We posted several short updates, photos and videos about Alicante, San Juan and El Campello on our Facebook page and we will keep you updated on news around the Costa Blanca.
Especially with any news about the new Corvera airport in Murcia developing and the 2011 Volvo Ocean Yacht Race starting this months in Alicante, we got lots of things to hopefully bring a bit of a "Sunny Feeling" back to your – wherever you are around the world.
From all of us here at the Keil Peiro family in San Juan de Alicante;
Have a great day and enjoy the "beach-feeling" pictures on our Facebook page,
Hubert
PS: Currently 27°C – Sunny – its 14:15 h time of writing this.