Information about Traveling and Living in Spain
Some basic information about travelling, moving and living in Spain, so when you next time visit this wonderful country you will find your way around more easily. Lying in the south western part of Europe, Spain is a country with about 40 million habitants.
Surrounded by Portugal, Andorra and France, Spain has two different coastlines. To the north and east the Atlantic sea to the south the mediteranean sea, giving to the fishing industry a major factor.
Important Cities of Spain
The capital of Spain, Madrid is well known all around the globe. With about 5 million the city with the largest population in Spain. Other important cities are Barcelona, host of the 1992 summer Olympics, Seville Spain capital in the southern region of Andalucia and Bilbao capital of the Basque Country. With the city of Valencia all major cities of Spain should be covered.
As far as importance from a tourist point of view is concerned we should mention Malaga along the Costa del Sol together with Granada famous for the Alhambra.
We published a detailed ebook on moving to and living in Spain. It covers all facets of a life as a foreign resident in this country Our Living in Spain ebook is available here.
From getting health coverage, finding and buying property to "fighting" the spanish bureaucracy with resident permits, NIE number and other important tax laws.
Languages Spoken in Spain
The main languages spoken in Spain are Castilian, as the official language – commonly known as spanish. Euskera spoken in the Basque Country, Galician spoken in Galicia and Catalan spoken in Catalonia. With Valencian, by some seen as a different language by others seen as a variation of Catalan, Spain has five different languages.
In some regions of Spain, like for example in the Valencian Community two languages (Castilian and Valencian) are official languages and thought in school. Once you travel around Spain you will note in certain regions of the country that traffic signs are often done in two languages. Now you know why.
One of the Best Things about Spain is the Food
Without any doubt, one of the best things for every visiting Spain is its food and wines. While some areas of the country like the Rioja are well known worldwide because of its excellent wines, most of Spain is famous for excellent fish and meat dishes.The northern areas for example Galicia, offers excellent seafood and meat dishes whilst the valencian area, especially between Valencia and Alicante is famous for their paella and gambas.
Regions
Spain is divided into autonomous regions. Regions of Spain:
Andalucia
Aragon
Asturias
Balearic Islands
Basque Country
Canary Islands
Cantabria
Castile-La-Mancha
Castile and Leon
Catalonia
Extremadura
Galicia
La Rioja
Madrid
Murcia
Navarre
Valencian Community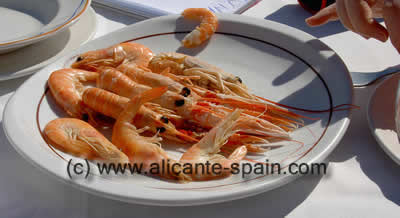 For those of you who think about a permanent move or how much is the cost of living around here, please find some practical tips about the country, food (especially Paella), culture and spanish language can be found in our special spain tips section here.
Well, not really all, because Alicante is certainly a very important city in Spain. 🙂