The Seville airport, which is called San Pablo, is located just 4 kilometers or 2.5 miles northeast off the center of Seville city. Its code SVQ can come in handy when trying to make reservations for cheap flights to Seville from any location.
It is easy accessible by the motorway with direction heading towards Cordoba and Madrid. The airport Seville spain is a fairly large one thanks to the regular air traffic that this airport handles. The whole area of Andalusia, and in particular the city and province of Seville deals with a great number of tourists and therefore has always been adding on extra services to make this a well-equipped airport.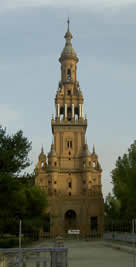 But the Seville airport is not alone in its interest in making the south of spain popular, there are also other airports such as the Malaga Airport ( code AGP), the Granada airport and the Gibraltar airport to aid in bringing us closer.
Seeing Seville Airport From All Angles
The fact that Seville has its own airport makes travelling from many European cities such as London, Frankfurt, Paris, Milan, Brussels, Dusseldorf, Amsterdam and Rome delightfully enjoyable with daily scheduled flights. And if you are coming from any other destination, there are many connecting flights with Madrid, Palma de Mallorca and Barcelona to making getting to Seville ´a breeze´. At the airport in Seville you have convenient services like a gift shop for the last minute souvenirs, a newsstand for acquiring all kinds of reading material, especially travel guides with good map of Seville and the city, a cafeteria and ticket machine.
Finding airport transfers from Seville airport can be done either with a Seville airport car hire or by taxi or by the EA bus that goes from the airport to the centre city and railway station. And once we are in the centre we can find good ways of getting around, too. The city buses in Seville are not double-decker but single and are orange coloured. The entrance is by the front door and exit is by the side door.
There are three ways to pay: in cash directly to the driver so exact change or small bills or coins is asked for, with a pass for 10 trips or ´bono´ which can be bought at the newstands and is a lot cheaper is you are going to moving about in the city or a travel pass which is for longer stays. Taxis are abundant in Seville during the all day and night. Taxis are government regulated and can be easily spotted because they are white and show an official taxi license identification number. There is starting fare of over two Euros, but extra charges are made for baggage, late night runs and public holidays.
Unfortunately, when you step into the Andalusian world, many taxi drivers do not speak good English, so to avoid communication problems either have a spanish-english dictionary available, an electronic spanish-english translator or if you were lucky enough to have gone to a spanish language school, then you will have no problems. When wanting to tour around the south or you simply desire to travel to another European destination by coach from Seville, you can use Seville´s principal coach station found at the Plaza de Armas. If you are uncertain and wish to be well informed, there is an information booth at the station which provides you with all sorts of brochures.
And last but not least is the Santa Justa train station with excellent facilities and combinations with Barcelona in just over eight hours or to Madrid in little over three hours. All in all, the Seville airport in Spain and its airport transfers to many other exciting places is an ideal vacation starting point.