It is summer time. Do you get this Holiday feeling already? … well we sure do. But in a bit of a different way than you might expect.
To us here in Spain, summer time, means lots of sun and fun, of course, but also lot's of extra work around our Alicante-Spain website.
As more Costa Blanca holiday and travel questions are coming in, things are getting way too busy. So far we could handle it relatively well, but this year was just a bit too much.
[pullquote]" Hey Hubert, found your website really useful, ….
… Perhaps a forum would be nice where people could share their tips…
Regards, Jackie"
[/pullquote]
So to all of you who we could not get back to in the past weeks – I am really sorry – Let me apologize!
Honestly, there has been a reason why we where so much behind in answering your Costa Blanca questions:
It all started with a simple email from our newsletter reader Jackie Browton. Her email made us think about how to get a forum running and if users would find it useful and participate.
It has not been the first time anybody suggested that we should run for a Spain forum, but it was the way she mentioned it in her email which made us rethink the idea.
And now, after countless hours of planning on how to better help you, allow us to introduce to you:
The New Spain Tips Community
For technical reasons we had to set it up on a different web-address over at spaintips.com. From now on, this is our one spot to get all together as a little community of Costa Blanca and Spain lovers.
Costa Blanca Forum filled with Questions and Answers
Let us build spaintips.com as a forum for everybody to ask questions and get help about your next stay in Spain. To get started I converted over 600 questions, answers and comments from our old Q&A section over into the new forum. You will find most of those in the Alicante forum, the Alicante airport forum, Benidorm forum, Torrevieja forum and the generic other Costa Blanca cities forum here. All these forums are located in the new Costa Blanca forum category.
Most of your past questions and answers regarding Murcia have also been imported to the new Costa Calida Murcia forum here.
I hope it will be much easier now, to search and find answers regarding your next holiday around the Costa Blanca or questions about living in Spain.
Events Calendar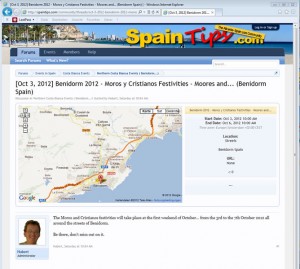 With this new forum, comes the introduction of an events calendar. Over the next weeks we will fill it with events and happenings around the Costa Blanca. So, you will know what's going on while you are around the area.
The entire events calendar is open and ready for anybody to contribute. If you know any local event/market/sightseeing trip/festivity which goes on around our beautiful Costa, please add it to the Spain events calendar.
Section for YOUR Spain Travel Stories
As a special, we have set up an area for YOUR Spain stories. Please visit the My Spain – Your Spain Story forum and post your personal story about the Costa Blanca or Spain in general.
It's about memories or unforgettable things which could make this section of our Spaintips Community a really special one. Please go here and post your Spain Story.
Please Get Started – by saying at least "Hello"
For the beginning, please jump over and join our free community. Would be really nice if you could leave a little post in the "Say Hello" section.
other interesting Alicante-Spain.com site updates:
Teulada City page updated
Following a visit to Teulada, at the northern Costa Blanca region, I updated our page with city information on Teulada by adding lots of images of this lovely town.
Make sure you visit it if you are in the area.
Since Teulada is connected by the narrow gauge railway line, you can easily get there from Benidorm in the south or from Denia to the north.
Especially a nice cup of cappuccino at the central plaza made Teulada worth visiting for me :-).
Finding Discount Vouchers for Benidorm Theme Parks

Several readers have asked about where to buy entrance tickets to the Benidorm theme and waterparks ( Terra Mitica, Aqualandia, Mundomar, Terra Natura etc.). Others where asking if it's worth it, to buy the tickets online and where to get any discount vouchers.
First of all, there is no need to buy entrance tickets in advance. It's a good idea to check ticket prices for any of the theme- and waterparks ahead of time, but generally speaking, there is no need to buy any ticket in advance.
Reason being, all theme parks are running constant promotions with vouchers around the main holiday months of the year. Currently, we here in San Juan de Alicante ( about 30km away from Benidorm) find discount vouchers at the Lidl Supermarkets, Repsol gas stations, CAM banks and at McDonalds restaurants. You don't need to buy anything to get these vouchers – just pick them up at the bank counter or cashier.
Watch carefully when you get voucher, as they often vary in the discount granted. Terra Natura's voucher which I picked up at our local Lidl supermarket, is a "pay 1 get 2" entry discount for both Terra Natura parks in Benidorm and in Murcia (valid for one person only).
While MundoMar's latest discount voucher is for a €7,50 adult (€4,50 child) discount off the regular entry price ( one coupon valid for up to 10 people).
As you see, there are literally tons of discount vouchers available. So ask at your hotel, keep your eyes open while in a store or just enter a gas station or a bank and you will find them. Lots of them!
This is it for today's newsletter. As you might have noticed, this newsletter was really nearly all about our new spaintips.com community which we are really excited about. I hope you will like it and participate. Would be awesome to have as many "Spain Lovers" in one place as possible and share this positive summer sun holiday feeling!
Enjoy your time wherever you are right now – and – Think about the sunny Costa Blanca for a moment!
From all of us here in San Juan de Alicante,
All the Best,
Hubert
PS: Currently 22°C – sunny – but still no need to switch on the air-condition. 🙂
PPS: Next, just a quick shot of the lemon tree outside my basement office, taken minutes ago.
Just to make you a little bit jealous 😉