Information on Finding a really nice Holiday Apartment around Benidorm

Amongst more the 210 000 Benidorm apartments (not all of them are holiday apartments), you should be able to find a decent one. It all depends how early you look for one of the better apartment buildings located close to the two Benidorm beaches.
You should compare pricing for any holiday apartment in Benidorm with Hotels before taking your decision. Most of the time rent for apartments should be cheaper. But it all depends if you look for apartments in Benidorm during or off season.
So here it is our short list of apartment buildings in Benidorm:

My personal Recommendations for Holiday Apartments in Benidorm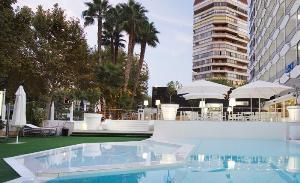 Apartments Torre Belroy – A great range of holiday apartments located in the same building as the Belroy Hotel in Benidorm. Perfect to enjoy apartment style pricing and and hotel facilities. Here is our review report.

If you want to retain your freedom when on holiday and want to cook by yourself then you should consider the Benidorm Levante Club Apartments. They contain everything you could ever need! Here our short review of this Benidorm apartment facility.
The Paraiso 10 Apartments in Benidorm allow you to enjoy your holiday while still being able to cook by yourself. They are conveniently located, with everything you could ever need near by! Our detailed report about those really nice apartments at the Paraiso 10 building is here.
Off season Benidorm Apartments
Finally one quick tip. Check during your first visit to Benidorm some of the local apartment lenders and Benidorm real estate agents. They might offer you interesting specials, particularly during off season. So check the web and than call or email them up for special off season pricing on Benidorm apartments.