Tips on buying Benidorm Real Estate
Before you think about some real estate around Benidorm, make sure you check the areas around together with friends or local real estate agents. Make sure you have already spent some time not just in summer around Benidorm, so you know the place from both sides of the coin during summer and during winter time.
Flights to Alicante are so cheap, particularly in off-season, take a weekend trip and check what it is like in the (not so warm) winter months. Benidorm in Winter sometimes feels deserted. You should consider this, if you plan to buy any real estate around the city.
Buying Real Estate in Benidorm
In case you plan to "stay for longer" and buy a property in Benidorm, allow me to give you some tips I always give to anybody asking on how to buy real estate along the costa blanca: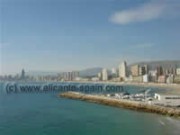 Visit Benidorm. Visit, visit and visit the area where you want to buy something. If you plan to buy something in Benidorm than rent different apartments around the area. Make sure you have seen the places not just during day time, but also at night. (Noise level sometimes change dramatically).
Local and national Benidorm real estate agents. Check pricing at the Benidorm real estate market with both (!) local real estate agents and nationwide real estate agents. The internet is your friend and will help you find different agents.
Take your time and don't rush. There is never a right or wrong moment to buy a property in the world nor in Benidorm. Take your time in finding Benidorm apartments you like and compare. Not just pricing, but also availability and seriousness of the vendor.
The Future of your real estate. Think about you in the future. Does the real estate have any kind of heating system for the not so warm winter months? Will the apartment be easily accessible or is it at 4th floor property with no elevator available. For a holiday stay of some weeks it's fine to carry your stuff up, but if you intend to live their for a longer time? Or do you intend to buy a house – with a nice swimming pool around. So who will take care of it when you are not around. Well – think about it carefully.
Ask your future Benidorm neighbors. It's easy and sometimes seams to be so difficult. If you plan to invest your money in one of these nice Benidorm real estate pieces- why not ask some neighbors around. Don't worry about language difficulties – you will come across many english and german speaking fellows.
Think about these questions when you plan to buy Benidorm real estate and than go for it because the Costa Blanca is such a wonderful place to life.