Most Torrevieja Hotels are located close or along the beach. Finding nice hotels should not be a problem. You can basically choose between a hotel located directly in the city of Torrevieja or at one of the surrounding beautiful much more quieter villages.
To us personally a nice place a bit outside the main tourist beaches is more appealing. But that's just a personal family view.
With over 35 000 habitants and about 10 000 hotel beds Torrevieja Hotels offer plenty of room. In the following you will find our short list of a view hotels in and around Torrevieja which friends and readers of this website recommended over the past years.
Up until now we did not recommend any special hotel because expectations and perceptions are so different. So please, take our little list as a starting point based on what other Torrevieja tourists recommended.

Our personal Torrevieja Hotel Recommendation List
(based on feedback from friends and readers of this website)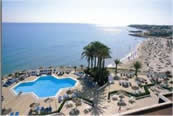 The Servigroup La Zenia Hotel

south of Torrevieja is an impressive hotel with a breathtaking view at the mediterranean sea. Read our short review here…
(Thanks for this hotel recommendation to Darell from Leicester)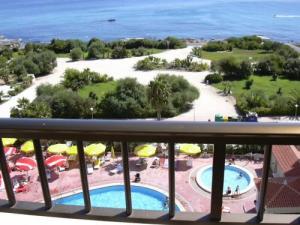 The Cabo Cevera Hotel

is a very comfortable 3 star hotel which is located close to the beach front of Torrevieja. For those of you who want to stay in Torrevieja, the Cabo Cevera is a very nice option. Our little hotel review is here..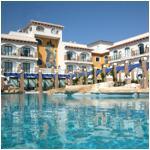 The La Laguna Spa and Golf Hotel Royales

has everything you could possibly want to make your stay as nice as possible. Located around 10 km from Torrevieja it is close to various great golf courses in the area. A detailed report about the La Laguna Spa & Golf hotel is here..
Check Pricing and Availability for Hotels in Torrevieja here…
In general check that the hotel offers a swimming pool, which most do as it is a welcome alternative and decent breakfast buffet. Most hotels offer all-inclusive packages which might be bargain. However restaurants and pubs are a perfect alternative to any kind of package tourism. Remember this is Spain, the country with famous for it's tapas bars. Please consider the big demand especially in the summer months for hotels, so check availability and do your booking early at your travel agency or via the web. Make sure you check hotel pricing before and compare it to Torrevieja apartments which are also an alternative.
Sometimes (particularly in off-season) you could also check local Torrevieja real estate agents, which rent out apartments of other homeowners.
Hotel Rating System in Spain
A quick guide on the hotels rating system in Spain. Concerning the star-rating of hotels you should be fine with one of the 3-star hotels for basic accommodation. The 4 and 5-star hotels will most of the time offer additional services, such as restaurants, swimming pool etc. depending on the hotel. Again please check pricing and availability of Torrevieja Hotels early when you plan a vacation in summer.