Overview Several Maps of Torrevieja in Spain
Torrevieja lies on the southern end of the Costa Blanca coast in Spain.
On this page we show various area maps of Torrevieja so you can get a better view on distances and neighboring town.
To Street Map of Torrevieja – click here >>
Map of Torrevieja And The Costa Blanca Region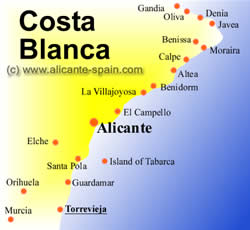 Interactive Street Map of Torrevieja
Additional Information:
Click here for further information and a detailed sightseeing guide about Torrevieja.