The Hotel Servigroup in La Zenia has one of the best locations you could possibly wish for, it's in a very quiet residential area but right on the sea front! You really couldn't wish for any better. There are two beaches surrounding the hotel which are just 20m apart, this will ensure that you always have plenty of sand to lie down on!
It is just 5km away from Torrevieja downtown, and there are numerous things that you can do nearby. There are 10 golf courses, two marinas and a riding club all within easy reach. The nearest golf course is just 3km away.
The most recent improvements to the hotel were completed in 2006, and many of the features still look brand new.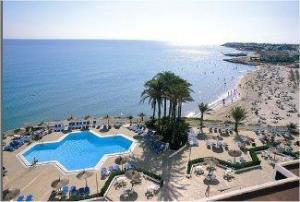 The Servigroup La Zenia hotel ( check pricing and availability here ) is a very modern and comfortable hotel which is ideal for families because of the services on offer. There are two brilliant swimming pools which are very close to the sea. One of these pools is for adults, and another one is especially for children. There is also a sun terrace which has sun beds and parasols which is a great place to relax. There is also a landscaped garden with lots of palm trees, and a children's playground. Children also have activities to keep them occupied during the summer.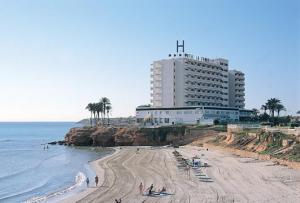 There is a wellness centre which has a heated swimming pool, sauna, Jacuzzi, sauna, steam room, and also offers massages and beauty treatments for guests. During the summer there are various sports and entertainment programs on offer, there is also a tennis court if you fancy a workout.You'll really like this hotel if you are an avid golfer as they are a member of the Costa Blanca Golf course association, this will allow you to get discounts on many of the golf courses throughout the region.
The restaurant and bar lounge has fantastic views of the pool and sea. Wireless network connections allow you to connect to the internet in public areas. There is a secure car park to make sure that your car is well looked after during your stay.
The hotel has 220 reasonable sized rooms many of which have really nice views of the sea. All of the rooms have air conditioning and heating systems. The bathroom has a hairdryer and shower. There is a color TV with digital interactive functions, allowing you to watch movies. There is also an internet connection for laptops, safe and electronic locks.
The restaurant serves a buffet style menu and only serves the best food available. All of the servigroup hotels are advised by Chef Jean Marc Sanz. The food here is delicious and amazing, you won't taste better from anywhere else!
The wellness centre at the hotel has a wide range of different facilities and beauty treatments which almost everyone will enjoy. It's located right in front of the sea which you can't possibly beat! There is a heated swimming pool, sauna, Jacuzzi and fitness area. The wellness centre is open from 10am – 8pm every day.