The La Laguna Spa & Golf hotel is perfect for people that want to relax in the fresh clean air of the Costa Blanca.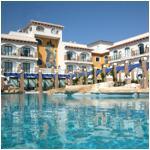 It's ideal for people that want to enjoy the natural surroundings from the ancient olive gardens which have trees which are over two thousand years old, to Las Lagunas de la Mata and Torrevieja Natural Parks which are close to the hotel. It is located 4km away from Guardamar beach which is very popular with tourists.
There are 7 golf courses all within 50km radius from the hotel, which means that you have plenty of variety when looking to play gold. The weather at this hotel is also very good, which makes it the ideal location to relax while still being able to practice sports such as canoing, hot air balloon flying, sailing, diving and fishing. This hotel is located 8km from Rojales, around 10km from Torrevieja and 40km from Alicante. It is a fairly modern building which has a white front, it ties in nicely with the other buildings.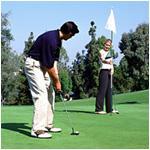 The La Laguna Spa & Golf ( check pricing here… ) has five large rooms which can be used for conferences or other business or social functions. La Laguna has 63 double rooms, and 34 suites all of which are decorated with a lot of care and attention. Each room has its own terrace which looks out onto either the lagoons or the stunning swimming pools. La Laguna is in a luxury residential resort which has some amazing facilities including an 18 hole golf course.It has a spa center which has over 700 square meters of space, you can go here to get the most recent health and relaxation treatments. They offer coffee wrapping, mud therapies, Finnish Sauna, Bubble beds, and Colagene.
Guests at the la Laguna have plenty of options of what they can do, they can either spend their time relaxing in the spa with some of the many massage or sauna treatments on offer. Or they can dine in the hotel's modern restaurant sampling many authentic Mediterranean dishes. The informal garden restaurant is also another option, weather permitting you can dine in the company of mother nature.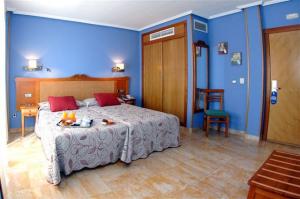 All of the guest rooms have modern decoration which make full use of a modern patterned fabric. All rooms have air conditioners, free wireless internet access if you have a wireless enabled laptop, color satellite TV, hair dryers, mini bars, and a safe to keep your belongings secure. The TV is capable of receiving UK satellite TV channels which is great if you're feeling a little bit home sick.
The whole hotel is clean and very comfortable, it's cleaned daily by very friendly staff. All of the members of staff are very polite, courteous and friendly. It has laundry services, business centre, cocktail bar, gym, fitness centre, conference centre, internet access, hairdresser, lift, car park, massage, meeting room, restaurant, sauna, spa, steam bath, swimming pool.
When arriving at the hotel you can check in at 12 noon, when leaving you need to leave your room before 12 noon otherwise the hotel may charge you an extra half days rate.