The Hotel Mangalan has a beautiful rooftop outdoor pool which has an amazing view of the sea, by the pool there is a great poolside bar.
There is also a separate smaller pool specially for children. There is a spa centre which offers guests with an indoor pool, gym and sauna. There are also a number of different beauty treatments and massages that they can do at the hotel. In the public areas of the hotel you can access the internet through a wireless network. There is also car parking available on site.
The hotel has 142 rooms ( booking details here ) which are spread across 10 floors, all of these rooms are decorated in an elegant way using coffee and tan colors. They have tiled floors, and all rooms have a balcony some with a view. The rooms include internet connection point, satellite TV and mini bars.
All of the rooms have access to air conditioning which is controlled by yourself, a balcony, mini bar, hair dryer, and an in room safe. The bathroom is well equipped and comes with a shower, Bidet and hairdryer. You can also request wake up calls if you need to get up at a particular time. Cribs are also available however you should make sure you reserve these when you book your room.
The guests staying at the hotel Mangalan receive a complimentary breakfast every morning, this is a buffet style breakfast which tastes fantastic. If you book half board then you can have breakfast or dinner for free. If you book full board then you can either have lunch or dinner for free.
The restaurant serves a wide range of traditional local food prepared using local ingredients, and also international dishes. Offers show cooking, buffet dining and a la carte menus.
The hotel is ideally suited for many recreational activities including golf courses nearby, swimming pool, sailing, windsurfing, motor boating, tennis, bicycle rentals, fishing, scooter rentals, and an onsite children's play ground.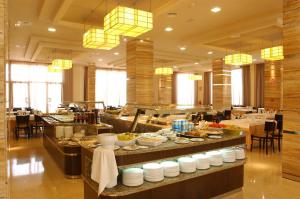 You can stay at this hotel on full board, half board or all inclusive depending on what you want. It's an amazing hotel which has everything you could wish for. Rear rooms are the best as they have a fantastic view. All of the rooms and facilities are clean. A kettle is included in the rooms so that you can make your own tea and coffee.
All guests get a free complementary 1 hour spa circuit which is worth €20, it's a great way to spend an hour, plus it's free! There are also plenty of really nice walks you can take along the beach.
If you want to go out to eat then there are plenty of local restaurants located 6 km from the hotel at the old harbor at Punto de Cabos.
Mar Menor is right outside the hotel door, the beach is just 30 meters away. There are also plenty of other attractions, including Murcia which is 50 km away, and Cartagena which is 32 km away.
The nearest airport is San Javier Airport which is about 40 km away from the hotel, it typically takes around 30 minutes to travel to the hotel.