The luxurious La Manga apartment hotel Residencial is located in the up market area of La Manga and situated on a main road.
The apartment / hotel building is very close to the Menor beach which makes it perfect for holiday makers from all over the world. It is only 50m away from the Mediterranean, you couldn't really wish for any closer than that!
The building was opened in 2006 and has beautiful landscaped gardens and terraces. There are 56 apartments on 8 floors ( details on prices and availability are here ) . 32 apartments have one bedroom, 24 apartments have two bedrooms.
On the ground floor there is a foyer which has a reception and a lift. All of the common areas of the hotel are fully air conditioned. There is also a small supermarket and garage with 23 car parking spaces on the ground floor.

You will benefit from a fantastic view of both of the seas in the hotel. It is also conveniently located, San Javier airport is just 30km away, and it's only 1km to Tomas Maser harbor. If you want to travel to a bigger city then Murcia is only around 75km away. Alicante airport is 130km away, which is where most foreign holidaymakers will fly into.
All of the residential apartments have brilliant views of both of the seas, seven of the rooms also have a sun terrace which is a great way to spend the evening. The terrace comes with beach chairs, table, and a shower. All of the rooms have an en-suite bathroom which has a hairdryer in it. All rooms also have a fully equipped kitchen with a fridge. You will also have a cable TV, and can hire a safe if you wish. It is possible to individually control the heating.
There is a large swimming pool in the grounds of the hotel, of course you don't have to swim to enjoy the pool. There are plenty of sun loungers and parasols around the pool. You can also take some of the sun loungers and parasols with you onto the beach. Being so close to both of the seas you will get an unforgettable and unique experience at La Manga Residencial, this will give you memories which you will treasure for a lifetime.
The one bedroom apartment is suitable for up to 3 people, and the two bedroom apartment can sleep up to 5 people comfortably. All apartments have a well stocked kitchen, living room, and bathroom with full bath.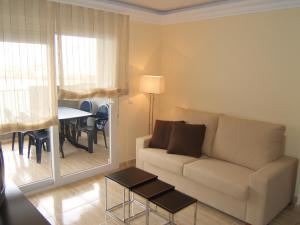 The hotel itself has beautiful landscaped gardens and a sun terrace. They also have rooms which are suitable for disabled guests, however you should book up in advance for this. There are also family rooms which make this hotel ideal for families. There is a lift serving all floors of the hotel, heating, luggage storage and a safety deposit box. The hotel has its own outdoor swimming pool and there is also a golf course under 3km away if you're at a loss for things to do. If you really have to work then there is a small business corner which offers fax and photocopying services. Onsite parking is available if required.
When arriving at the hotel you must check in between 5:00pm and 10:30pm, when leaving you should check out between 11:00am and 12:00 noon.