The Las Gaviotas La Manga Hotel is a 4 star luxury hotel in the well known holiday resort of La Manga, it has excellent public rooms and very comfortable bedrooms designed in a modern style with some great facilities.
There are also brilliant views from the rooms of the Mediterranean Sea and the Mar Menor. The hotel is centrally located in La Manga with a short walk to the beach. There are also plenty of shops and bars nearby if you fancy a little stroll.
The Las Gaviotas has 104 rooms (check pricing and availability here ) , all of which has its own phone, satellite TV, fridge, safety deposit box and well equipped bathroom complete with hair dryer. All of the rooms have a balcony, it's a good idea to stay in a twin room as these also have a sea view. You can stay in this hotel on full board basis, where they serve a buffet style menu. At breakfast you also get a glass of Spanish cava. Water and Cava are also served with your lunch and dinner, which is a nice little treat!
There is a bar at the hotel between the hours of 11:00 am until 11:00 pm which serves a wide range of soft drinks and local alcoholic drinks. There is also a very comfortable lounge bar which has a TV area, and an outdoor swimming pool. The pool has a sun terrace area with sun loungers, parasols and towels. You can also play darts or go shooting with an air rifle if that's what you like!
The hotel is located a mere 200 meters away from a lovely golden sandy beach. It offers a wide range of features which will make anyone feel at home including air rifle shooting, darts, and an outdoor swimming pool. You just need to step out of the front door and you're practically on the beach. All of the rooms are very well looked after, the linen is changed on a daily basis and the rooms are cleaned every day. The staff are very polite and if you are in bed when they try to change it they will come back at another time.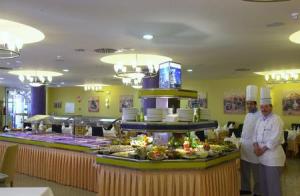 The food is brilliant, they have something for everyone, such a wide selection of different dishes make it really easy to satisfy even your children! Although mainly pensioners go to this hotel it is perfect for everyone. Families will enjoy it and even couples will enjoy the quiet tranquil location. There is plenty to see and do here for everyone.
When arriving at this hotel you should check in after 12:00 noon, and when departing you must vacate your room before 12:00 noon.
If you want to have a nice relaxing holiday where you can soak up some sun on the beach then this is the ideal location for you. Being able to step out and be on the beach is perfect! You couldn't wish for a better location.