Not everyone likes to stay in hotels, and so they may quite like the idea of the Torre Belroy Apartments. They're located in the Belroy Hotel, but you are completely separate from the hotel rooms.
Access to the apartments is easy, as you don't even need to go through the hotel. There is a special back entrance which can be used to access the apartments. This is closed at 9PM, after which you have to go through the hotel.
The apartments offer a good level of service and a very nice and friendly atmosphere which is very enjoyable. These apartments offer you a great, unique holiday experience. The Torre Belroy Apartments ( you can get booking details on the Torre Belroy Benidorm apartments here… ) have a central location which makes it well suited for holidaymakers who want to see the sights. It is located just by the beach and only takes around five minutes to walk to the centre of the town.
The rooms are very comfortable and include absolutely everything which you need for your holiday. The rooms come equipped with a fridge freezer, microwave, coffee machine and a hand blender! In the living room there is a Color TV with Satellite stations.
All of the rooms are very comfortable which come with all of the amenities which you require to make your stay as pleasant as possible. They have a large balcony, some of the rooms have great views of the outdoor pool. The rooms are all cleaned regularly and kept spotless, this isn't a hotel so there's no room service although it is fantastic!
You can also use the hotel restaurant If you fancy dining in style. You can taste some wonderful dishes and there is plenty to choose from. If you just want to relax then you should check out the bar, you can sip away at a glass or two of wine all night long and forget all of your stresses.
If you want some relaxation then you can either take a dip in the heated swimming pool, or take a walk around the beautiful gardens. There are two swimming pools, one outdoor pool and one heated indoor pool. There is also a Jacuzzi if you just want to relax.
The security for these apartments is fantastic, although you can hire a safe I think the security makes it unnecessary!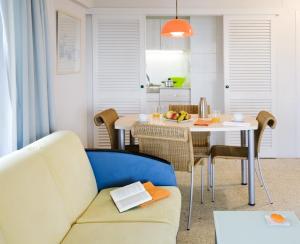 Getting around is extremely easy, you just need to walk for 10 minutes to reach the main square where everything happens. There is also a bus stop right outside the front door which is a cheap and easy way to get around, everywhere seems to cost just one Euro! The beach is only about 5 minutes away, how more convenient do you want?
The apartments share many of the facilities with the hotel, you get access to a swimming pool, restaurant, fitness suite, cocktail bar and gorgeous garden! The rooms are also easily accessible for disabled people, however make sure you notify the hotel when you make the booking so they can provide everything you need.