The Port Denia Hotel in Denia is located in a quiet but comfortable residential area, it is located next to the marina and has a wonderful view of the sea.
The hotel is only 100 meters away from Marineta Beach and 1km, or a 30 minute walk from Denia City Center. There is also a local bus service every hour which will take you to the city centre. The hotel has been refurbished in 2005, some of the rooms have a balcony while others do not.
There are two swimming pools, one indoor one which is aimed mainly at children, and a larger outdoor one which is in a nice landscaped garden. In this garden there is also another children's swimming pool and a children's playground. The hotel has its own entertainers which make sure you get the most possible out of your holiday.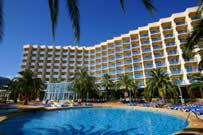 There are plenty of activities for both children and adults. The outdoor swimming pool bar is open twice a day from 11:00 to 14:00, and again from 16:00 to 01:00, this serves drinks and snacks.
The hotel ( check pricing and availability here ) is also very well suited for older guests, and the hotel has disabled access. Some of the rooms are also accessible for disabled guests. There's plenty to do at this hotel for everyone, you might like to play table tennis, swim, go bowling, play golf, or simply soak up the sun on the sun terrace. The nearest golf course is a mere 3km away, which means you can play golf whenever you want!
The hotel restaurant is well known for serving a wide range of delicious foods, it can seat up to 400 guests, has heating and air conditioning. There is also entertainment in the restaurant on some nights. It is a buffet style restaurant which makes it possible to pick and choose, and taste as many different things as you want to.
There is also a bar which can seat up to 280 guests, it serves bar snacks, drinks and also serves food during the peak season.
The whole hotel is very clean, and rooms are cleaned on a daily basis by very thorough maids. All of the staff at the hotel are very helpful, and they're always smiling.
Unless you have booked this hotel as part of a package holiday then you will need to get a taxi to the hotel. You can check in from 16:00 until 00:00. When leaving the hotel you must check out of your room before 12:00 otherwise the hotel may charge you for an extra day.
This hotel is perfect if you plan to spend lots of time on the beach because it's so close, also the facilities in the hotel are so good that you don't really have to leave! Of course if you do want to leave then there is always the option of walking or catching the bus. The Hotel Port Denia is great for older people, but it's also good for many other people.