Finding decent Denia hotels should not be that difficult. The city of Denia found a way to incorporate many hotels into the city without destroying the skyline.
But be aware of the huge demand during the summer months for Hotels in and around Denia and the entire Costa Blanca area, so do your booking early at your travel agency or via the web.
A Short List Of Really Good Hotels
At this stage I will recommend one or the other very nice Denia hotel as many asked for my opinion. Personally, living at the Costa Blanca (near Alicante) I obviously do not stay in any hotel in the area, but we got a large readership of our email newsletter. I compiled a little survey among our readers and here are my hotel recommendations based on tips from to our ezine readers.

My personal Hotel Recommendations for Denia
(based on feedback from our email newsletter readers)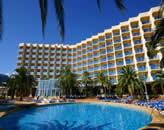 The Denia Port Hotel

is in a lovely quiet location with plenty of facilities for adults and children alike. There is plenty to do on every day of your holiday! Find our review of this nice hotel in Denia here.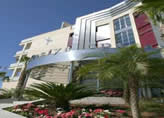 The Daniya Denia Spa & Business Hotel

is perfect for holdiays and business travellers. Outstanding location and great service. A wonderful place. Read our short report about this Denia hotel here.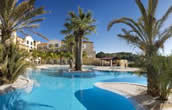 If you want to relax in luxury when on holiday then you should seriously consider the Denia Merriot La Sella Golf Resort & Spa Hotel

. All of your needs will be cared for when you stay in this hotel! Our review about this impressive resort is here.
Denia Hotels Ratings
As far as the star-rating is concerned you should be fine with one of the 3-star Denia hotels if you expect basic accommodation. The 4 and even the 5-star Denia hotels will most of the time offer additional services, such as restaurants, swimming pool etc. depending on the hotel. Once again make sure you check pricing and availability of Denia Hotels early when you travel in summer.
Check hotel pricing before and compare it to Denia apartments which are also an alternative. In case you visit Denia in off-season you might also want to check Denia real estate agents, who sometimes rent out property of locals as well.