The Agir Hotel in Benidorm was completely renovated in recent years and still looks as good as new, it's a wonderful four star hotel which is in one of the best locations in Benidorm. The hotel is located on the main Boulevard in Benidorm, it is only 100 meters away from the very popular Levante beach, and only 150 meters away from the centre of the city. This hotel gives you the best of both worlds, being able to relax on the beach and being able to enjoy shopping.
As soon as you walk through the door of Hotel Agir you will notice the very modern designs, this hotel is immediately relaxing which is a nice change to the hustle and bustle you normally associate with hotels. All of the staff are very attentive and will go out of their way to ensure you are satisfied.
Alicante airport is only 60km away which is a 40 minute drive. If you don't have a hire car then you can quite easily get there by taxi, or public bus. You can check in to the hotel between 13:00 until 18:00.
The Agir Hotel has single, double and superior double rooms. Superior rooms are more luxurious and have comfortable sofas, armchairs, a balcony and a Jacuzzi. All of the rooms have air conditioning, phone, minibar, and satellite TV. The superior rooms have two TV's so that you can watch in the bedroom and the lounge area.
The hotel has eight floors, there are two lifts serving all floors, one of which is a glass lift with a great view of the main road connecting the old and new town together.( Check pricing and availability for the Agir hotel here… )
If you want to unwind and relax then you should check out the rooftop pool and solarium. Get a lovely chilled drink and lounge around on the decking for as long as you want. There is also a Spa for a completely relaxing experience for your whole mind and body. The spa has a steam room, and Turkish baths which are ideal ways to relax!
When it comes to food the hotel restaurant is hard to beat, the food is wonderful and the restaurant is surprisingly quiet and relaxing. Breakfast is not to be missed as there is something to please everyone, even the pickiest of children will be satisfied! There are plenty of Mediterranean specialties on offer, the restaurant is open for both lunch and dinner.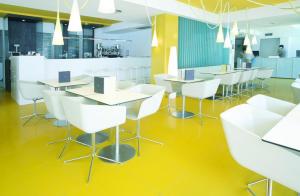 Alternatively you can eat bar snacks in the Terrace bar and enjoy the wonderful view of the sea while you dine.
There is plenty to do at this hotel for the whole family, Mundomar Animal Park is only 2km away, as is Aqualandia Water Park, and Terra Mitica fun park is only 4km away, any of these would make great family days out. Alicante is 30km away which is around a half an hours drive. Even if you don't have a hire car it's still easy to get around, the hotel is located near to the bus terminal.
My opinion on the Algir Hotel in Benidorm: This is a wonderful hotel to stay in for so many reasons, it's great for relaxing breaks but it's also great for romantic getaways!