The Hotel Village Spa El Rodat is not just a normal hotel, it's more of a mini village! It is located in a picturesque woodland which has some fantastic gardens surrounding the hotel. It's such a calm location that it will really help you to relax. It's a truly luxurious experience, it will stimulate all of your senses.
This Javea hotel is located within easy reach of all the major attractions including Cape Nao, Creek of Granadella, White Creek, Natural Park of Montgo, City of Arts and Sciences, Mythical land, Altea, and the Market of Javea. Denia castle is also only 15km away.
The Hotel Village spa El Rodat ( check pricing and availability here… ) also provides parking, air conditioning in common areas, night porter, laundry service and car rental desk. Internet access is also available throughout the hotel using the wireless network, this is free. The reception is available for 24 hours a day, and there is free parking.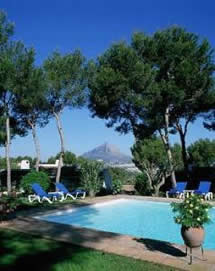 If you are feeling stressed and need to unwind then you might like to check out the spa, there are numerous spa treatments which can help to make you feel a whole lot better. Getting to and from the hotel couldn't be simpler as they offer a free airport shuttle service, however you have to request it. There is also a news stand, and 24 concierge services.
There is also plenty to do at the hotel, there is a large indoor swimming pool for when the weather is cold and also an outdoor swimming pool if it's a little warmer! If you are a little sporty then you can play tennis on one of the hotels courts. The outdoor swimming pool is on the roof which gives you a stunning view!
All of the rooms have their own telephone, air conditioning system, and safe. You also get a color cable TV and wireless network connection in your room. The private bathroom has a bath tub and a good selection of toiletries.It offers a number of business facilities such as fax machines, conference rooms, internet access, wireless network and photocopying. The meeting rooms also have audio/visual equipment which is ideal for presentations.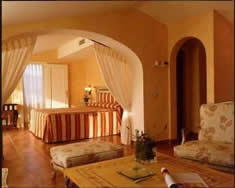 In addition it also has a banqueting suite which is great for business functions or a large formal party. The wireless network is available throughout the hotel in public areas.
The El Rodat restaurant serves some delicious food in a cozy and refined atmosphere, they also have a very good selection of local wines for you to sample. I suggest trying a different bottle each night!
Pets are welcome in this hotel, which is a strange thing to see these days! When arriving at the hotel you should check in after 4:00pm, and when leaving you should check in after 12:00 noon.
The nearest airport to the hotel is Alicante Airport, the nearest train station is 30km away, and the nearest bus station is 3km away.