The Solymar Hotel in Calpe is a very modern and stylish hotel which is located along the front line of Arenal Beach and is located very close to the famous rock known as Penon de Ifach.
Many of the rooms in this hotel have a great view of the sea, so you don't actually have to go outside to enjoy the sea!
The hotel is also very close to all of the attractions and commercial centre of Calpe which is in essence a beautiful old town. The hotel is located 60km from Alicante airport and just 15km from Benidorm city centre.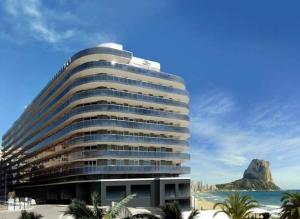 There is easy access onto the beach from this hotel which makes it extremely easy to soak up the sun and perhaps even soak away your troubles in the sea. It is absolutely spotless, has fantastic service and is decorated very nicely. The staff are really friendly and can't do enough to help you out.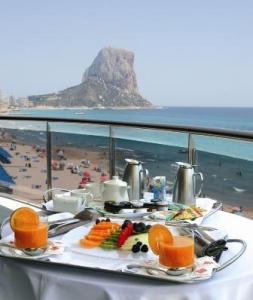 The Salymar Hotel ( pricing and availability here ) itself is very stylish and has a spacious inviting feel to it. There is a fantastic restaurant which serves only the best food made from the finest ingredients. There is also a spa and fitness centre to help you unwind and leave your troubles behind.
The outdoor pool is amazing, and if you want to go to the beach then there is also a beach club. This is the only hotel which has fantastic views of the Penon de Ifach rock. Calpe is a historic and cultural town which has a lot going for it, it's a little bit off the beaten track but I think that makes it even more special.
Calpe really is a hidden gem, it is very popular with Spanish holidaymakers. It has two fantastic blue flag beaches with golden sand, there is also a modern marina which is located near to the old fishing port.
This hotel is unique, it offers fantastic quality services and pays a lot of attention to detail. The hotel is decorated very elegantly, the hotel looks amazing and you will also be able to enjoy all of the facilities. This hotel really is in a prime location, you won't get better anywhere in Spain, and I doubt the whole world. If you stay in the solymar then you will be bound to have some unforgettable memories.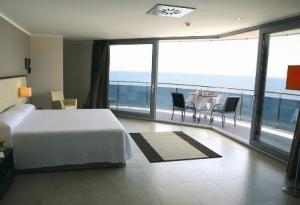 Most of the double rooms at the Solymar have an extra sofa bed which can be made up to sleep another adult, or two small children. Superior suites have a hydro massage shower or bath and amazing views of the sea. It's worth requesting a room with a view, as they have amazing views looking out onto the sea. You can also book executive rooms, disabled access rooms and smoking rooms if required.
The rooms are a good size and the designer thought of everything, the attention to detail is amazing! Parking is offered, but it's a good idea to book up well in advance. Not only are the rooms amazing, but the common areas and restaurant area also amazing. There is only one English pub in Calpe at the moment, but you are only 15 minutes away from the hustle and bustle of Benidorm if you want that sort of thing!