One of the best ways to travel around short and long distance from Alicante is the public bus system.
Alicante got a very modern bus station located in Muelle de Poniente S/N – close to Alicante harbor.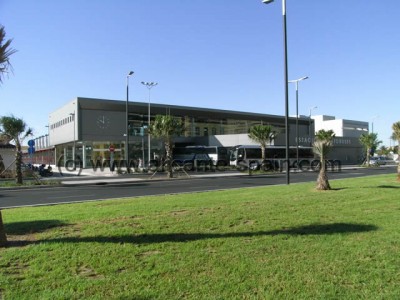 If you need information on how to get a bus from the airport to Alicante, please see our Alicante Airport Bus section.
Alicante Bus Station – Estacion de Autobuses Alicante
Muelle de Poniente S/N
Alicante
Telephone: 965 13 07 00
Note: The old former downtown bus station ( at the Calle Portugal 17 ) which sometimes is still showing up on old maps around the web, has been closed down September 2011.
Where to get off the Bus from Alicante Airport?
With the new bus station, there came a change to the Alicante airport bus line C-6.
It now gets you perfectly into Alicante from the airport, with a bus stop just opposite to the bus terminal building. Perfect to get quickly from Alicante airport to any city around the Costa Blanca or Spain.
>> The route map covering the most important bus stops of the Alicante airport bus can be found here.
Different Bus Companies offer Local, National and International Bus Tours From Alicante
A large variety of bus companies operate from Alicante bus station and offer connections to all over Spain and Europe.

Bus Companies offering Services from Alicante Bus Station

Alsa Group SLLC SLU
Tel.913 270 540
Autocares Baile
Tel.965 925 365
Autocares Costa Azul S.A.
Tel.965 710 146
Bilman Bus
Tel.965 130 700
Grupo Autobuses Jimenez
Tel. 965 132 946
Eurolines
Tel. 965 121 455
La Agostense
Subus
Tel. 902 106 992
Autocares La Serranica
Tel. 965 280 592
Linebus – LÍNEAS EUROPEAS DE AUTOBUSES S.A.
Tel. 902 335 533