Where to enjoy great cuisine in Murcia Spain ?
The region of Murcia is famed for its market gardens, the quality of its vegetables and its rice which is grown in the Murcian village of Calasparra.
In Murcia city you can sample tasty vegetable and rice dishes or wonderful seafood dishes while enjoying the beauty of this captivating city.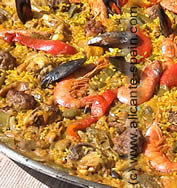 There are many tapas bars throughout the city, especially in the Plaza de las Flores and the Gran Via Alfonso X area. A great place to enjoy morning coffee, tapas or paella is in the lovely Cathedral square, Plaza Cardenal Belluga. There are restaurants and bars to suit all budgets, from the cheaper restaurants in the Plaza San Juan and Plaza de Julian Romea areas to the high class restaurant of the Hotel Rincon de Pepe.
Here Are Some Of My Restaurant Recommendations For Great Food In The City Of Murcia
Barra del Rincon – attached to the Hotel Rincon de Pepe, Aposteles 34, Murcia. Near to the cathedral in the City Centre. ( Tel. 0034 968 212 239) The bar and restaurant of this 4 star hotel are famous for their tapas dishes. You can enjoy tapas and a Menú del Dia in the Barra del Rincon which is also known for its cocktails and has a luxury feel for a tapas bar, or you can enjoy even more luxurious dining in the restaurant. To sample a wide variety of tapas try the Menu de Degustacion of the Barra, which gives you samples of the most popular tapas dishes. You can also try seafood tapas dishes like mojama (dried salted tuna) and mullet cooked in garlic.
Meson El Corral de Jose Luis – Plaza de Santo Domingo, 30008 Murcia. (Tel. 0034 968 214 985)
This classic Murcian restaurant is well known for its Menu del Dia and its wonderful vegetable tapas dishes. The meat dishes such as Iberian tenderloin with garlic are also tasty and to be recommended. It can seat 150 people in its traditional rustic dining area and seems to be always open! Definitely one to try.
El Grumete – Plaza San Nicolas 3, 30005 Murcia ( Tel. 0034 968 216 679)
also found on Calle Vara de Rey 6, 30001 Murcia ( Tel. 0034 968 220 807)
Known for its fresh seafoods, including its famous mussels, this is a restaurant not to be missed by lovers of fine seafood. El Grumete offers a wide selection of great quality seafood dishes and rice dishes, including Arroz Caldero and paella, at great prices. You won't be disappointed with this restaurant's food. Please note that this restaurant is closed on Mondays, as are many others.
Las Cocinas del Cardinal – Plaza Cardenal Belluga 7, Murcia ( Tel. 0034 968 211 310 ) This great restaurant can be found in the square in front of the Murcia Cathedral and the Palacio Episcopal. It offers a fixed price (a la carte menu) and also a selection of tapas dishes to be enjoyed in the setting of the beautiful cathedral. Great food, great service and a top location – what more can you ask for?
Hispano Hotel Restaurant – Calle Radio Murcia 3, 30001 Murcia ( Tel. 0034 968 216 152 ) This hotel restaurant serves Murcian delicacies such as seasonal salads, fresh fish from the nearby Mar Menor, tapas dishes, grilled vegetables and stew of the day with wonderful homemade bread and fine Murcian wine. Enjoy the tasty local food in rustic surroundings. The restaurant is decorated with local market produce on the tables and traditional pots and pans on the wall, a lovely atmosphere.
Other great bars and restaurants to try are:
Restaurante El Churra, Calle Obispo Sancho, Murcia ( Tel 0034 968 271 522) For great traditional cuisine.
Restaurante Cuba, Calle Condestable, Murcia ( Tel. 0034 968 294 583 ) If you tire of Spanish food then you can give your taste-buds a treat with the Cuban and Italian foods on offer at this restaurant.