A few days ago we went with our daughter Anna for the first time this year to Benidorm's best known fun park Terra Mitica. With two new attractions introduced last year the park was even more fun than past time.
The "Inferno" ride is lots of fun , but you should not have eaten before ( oh man i tell you 🙂  ) .
The second new attraction is a wonderful sky high viewing platform called "Infinito", which allows you an outstanding view down to the bay of Benidorm.
Very impressive.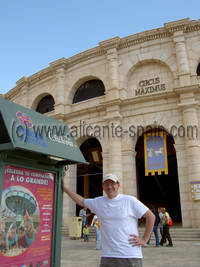 Circus Maximus in Benidorm
For those of you who have never been to the Terra Mitica park, it is really lots of fun and definitely a "Must See" if you are around the Costa Blanca on holidays. Especially if you are with kids.
The park is divided into 5 major thematic areas: The Islands, Egypt , Iberia , Greecia and my favorite one : Roma .
So once again I got my hand on the Circus Maximus , a wonderfully replica of the original and center of the Roma area.
Entrance Prices 2008
Terra Mitica's entrance fees, especially for a single day ticket are not cheap.
I took a picture of this years prices, hope you can see it well.
However, keep in mind that every ticket includes free rides on all those attractions. And there are many of them.
Annual Tickets could be interesting even for Tourists

We are a bit fortunate I have to admit, since we life only 20 minutes away from the park. So we come by many times during the year, sometimes just to spend the afternoon and evening out there. We bought an annual ticket which sells for 62 EUR, thats less than 2 day tickets. And if you get the renewal pass , an adult pays only 45 EUR. Being a family the annual passes get even cheaper.
So if you are just on a vacation in the Benidorm area, you might have a better look at getting an annual pass. Especially if you plan on returning to the park during your holidays.
All in all, the Terra Mitica Park is lot's of fun and a really pleasant experience not just for kids. ( Hey I also love it, but don't tell Anna otherwise we need to go even more often 😉 )