The hotel itself is located in Los Narejos about 30 km outside of Murcia. Very close to Mar Menor in Los Alcazares which has fair weather all year round. It's very easy to get to the hotel Los Narejos, it's just a short drive ( less than 2 km ) to Murcia's San Javier airport.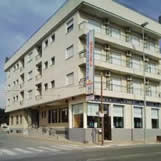 This hotel is a nice change from the large companies that you often see, the problem with large hotels is that they often don't care enough. This is completely different, it's a family run business which is very friendly.
The Los Narejos Hotel ( check availability and pricing here ) is perfect for people from anywhere in the world looking for a comfortable and clean place to stay. The rooms are fantastic value for money, and the staff are all very friendly. The restaurant is very popular with locals and guests alike. The restaurant serves a great value lunchtime menu which is hard to beat.
There are lots of golf courses which are very close to the hotel which will keep golf enthusiasts happy. The nearest golf course is just 3km away, and there are another 6 for you to choose from.The hotel is well located, everything you could ever want is within walking distance of the hotel. You can take a walk down the promenade which is lined with palm trees, take a trip to the marina or have a relaxing day at the ancient thermal baths.
The hotel is perfect for families because of its location right next to sandy beaches and shallow seas. Los Alcazares has 7km of coast line which is very sandy, the town center of Mar Menor is virtually on the coast line. You can also visit Mar Menor which has water rich in minerals, it is Europe's largest salt water lagoon. This has been used since ancient times for therapeutic purposes. It has a restaurant, bar, lift, luggage storage facilities and 24 hour reception service.
The hotel offers single rooms, double rooms and twin rooms. In the winter you can book a double room with half board as a special offer. All rooms also have wireless internet access for free, this can also be used in the public areas of the hotel including the restaurant.
Getting to and from the airport is easy as the hotel offers a quick airport shuttle service on request. There are also fax, photocopying, wireless network, internet, and internet services included.
The rooms are all very comfortable and spotless, they are cleaned on a daily basis to keep them looking their best. The bedroom and bathroom are both very modern. All of the staff are very friendly and helpful. All of the rooms have air conditioning which is very important during the summer! Some of the rooms even have good views of the Mar Menor (salt lagoon) which is a great sight.
It's lovely to be able to stay in a hotel which is still a family run business, every member of the family seems to work in the hotel and has an input. This means that you will get the best, personalized service you could ever wish for.
You couldn't wish for a better location, the beach and restaurants are all within a few minutes' walk which makes it very easy for you to enjoy your holiday. It only takes 10 minutes to get to the airport.