Knowing what to look for with a map of Marbella
Looking at our map of Marbella spain, we will see at a first glance, that the city centre seems to be very crowded. But if we have found the correct type of map, one which shows us the streets, surrounding access roads and then a little further around the area, we will just shrug our shoulders and say that this is quite elementary and tackle it at once.
A map is a way of communication and the way we can measure its effectiveness is by being able to locate what we are looking for immediately. If we can find all the attractions we are interested in seeing and can also keep our bearing, then this map will enlighten us and persuade us to use it frequently. The map of Marbella that are offered at the many information booths and tourist information offices are made with the idea that even children can understand them. Before, many of the symbols used were not quite understandable and we could be misled, but nowadays, being as new roads, monuments and attractions are constantly being added, new maps should always be obtained on arrival for this precise reason.
Just follow the sweet smell of Jazmine
Once you have the map of Marbella unfolded, your hotel located and your walking shoes on, just stick out your nose and follow your instinct.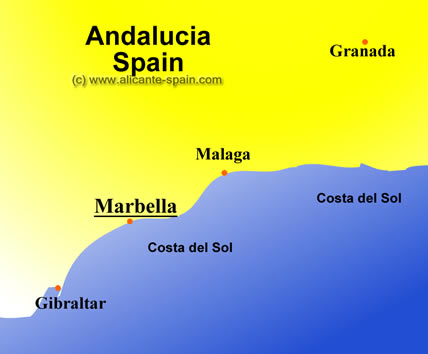 As usual, everyone starts their tour by doing the city centre and if there is a beach boardwalk, I would recommend it for midday, especially in Andalusia, so you can sit outside along the promenade at one of the typical cafes and while soaking up the sunrays, enjoy some of the ´tapas´ or aperitifs.
The city center of marbella looks like a jigsaw puzzle with all the little streets criss-crossing among themselves. But do not fret, with our map of Marbella city, we can easily find our way around and not miss out on any of its hidden pleasures. Almost all the streets are lines with orange trees and all the houses are white washed, but the streets are clearly marked. Have a pencil ready to put an X on the shops or picturesque buildings that you might want to go back to. Marbella city is so cozy because it has the luxury of well-known brand shops but the smallness of a cute village.
A Detailed Map of Marbella
After having strolled around the city, grab your Marbella map and head for the surround open-air excursions like a day trip to Puerto Banus, about 6 kilometres away, and count on staying there for an elegant nights´ dining and partying. Or if your taste is more geared towards nature, then spread out the map and look for the Natural Park of Sierra de Las Nieves, famously known for its vegetation and wildlife. As you can clearly see, the roads, highways, road signs and directions and other services are visible with uncomplicated symbols. So do not be afraid to become Indiana Jones on your next trip, and just whip out your fantastic map of Marbella spain.