How all sorts of map of Cordoba can lead you around easily
Any and all kinds of map of Cordoba you can get a hold of are going to help you get around. The main point of a map is to guide a person either over a long distance by interconnecting roads from one point to another as would be a road atlas, this including important symbols marking where a petrol station is, different coloring and thickness of lines indicating the most important highways or motorways and whether you must pay to use them or not.
If we are traveling leisurely, then the different landmarks of picturesque villas and observatories to picture taking can also be needed. This road map can also come in great when arriving at the Cordoba airport and after having car hire, finding our way directly to our Cordoba hotel in combination with the Cordoba city map. With the Cordoba city map, having acquired it earlier either through internet or at a local bookshop, in the language that would be best for everyone, we can then plan our stay.
The city of Cordoba is best done on foot and therefore we definitely need a map of the city to show absolutely everything.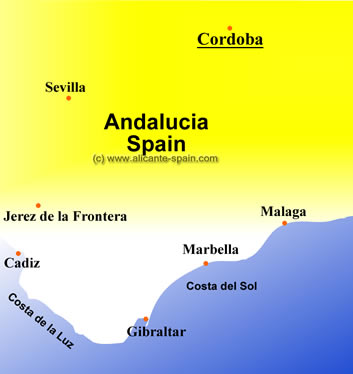 From hotels to good restaurants, monuments, churches, shopping areas, bus routes and street names which are clearly written. Cities are constantly changing thanks to new attractions, exhibitions, new bus routes and new housing so it is very important to get the latest addition of city maps, which are given out freely on the net, at the Town Hall, at the airports and in the hotels. Settle into your hotel in Cordoba and unfold your city map. Pinpoint where you are and dot all the places you would like to go. Read a little about each place and number them from one to whatever on your list of priorities. Look at where they are and plan your visit by connecting the dots in an orderly way so as not to have to backtrack yourself and waste time.
How fast you can get around knowing where to go
Whether you have picked your hotel in the center of Cordoba along the Paseo de la Victoria ( Victory Promenade) or on the other side of the River Guadalquivir, our tour of this magnificent city, in my opinion, should start from the Torre de la Calahorra, crossing over the river on the Roman bridge to first view the impressive Mezquita of Cordoba. This can be done with a snap of our fingers having previously located it on our map. We can simply locate a bus route if we are a little far away, or plan to stroll along the streets and visit what comes up first, always keeping mind that we want to have enough time to look into every nook and cranny of this 14th c. jewel left to us by the Moors.
An Interactive Map of Cordoba
A good traveler is one who has prepared themselves both physically and mentally and has been able to squeeze every drop of information out of his trip, mainly thanks to the aid the map of Cordoba has given them.