The Astoria Hotel in Malaga opened it's doors in 2002 and provides visitors with everything they need to enjoy their stay. It is run by the Eurostars group, which runs lots of hotels all over the world. It's a modern hotel which has an inviting and relaxing feel to make sure that you can enjoy your holiday as much as possible. This very comfortable and functional hotel which is the ideal destination for any holiday.
All of the rooms have safe boxes to protect your belongings, pay per view, cable TV, Telephone, Bath Telephone, Air conditioning, heating, Hairdryer, and Mini bar. The air conditioning and heating can be controlled independently, so you can set whatever temperature you want. The hotel has a large covered car park, heating and air conditioning in communal areas, and a lift.
The hotel is also integrated into a shopping and business area, and will give you a free newspaper of your choice.
There are 57 rooms in total in the Malaga Astoria hotel ( you can check pricing and availability here ) , 28 of which are double rooms, and the remainder twin rooms. All rooms have air conditioning, magnetic locks, Computer Internet socket, Desk, Telephone, Makeup mirror, minibar, and water massage bathtub. The hotel has 220 volt sockets allowing you to run all of your electrical gadgets, you can even run your laptop and connect to the Internet if you feel like you have to work!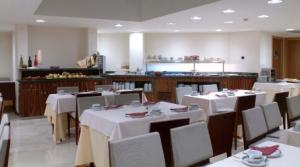 Everything in this hotel is brand new, everything is very clean and tidy. The beds are very comfortable and the bath towels are very high quality. The staff are all very friendly and very helpful. This hotel is ideally located for all of the amenities, it takes less than ten minutes to walk to the major bars, attractions shops and restaurants. You can also walk to the port in under 10 minutes. The Malaga Centro train station is located just in front of the hotel which makes it very easy to get around. The train is also the best way to get from the airport to the hotel, it only costs €1.20, which is very reasonable. It takes under three minutes to walk to the train station, and fifteen minutes away from the bus station.
This hotel is completely spotless, you would struggle to find even a tiny spot of dirt in the whole hotel. The rooms are also a reasonable size, you should find them fairly comfortable and relaxing. The hotel has everything you could possibly need to make your stay enjoyable and stress free, it's also very easy to get wherever you want to go and use this hotel as a base for your holiday.
The hotel Astoria is well suited to many different types of people, including families with young children and couples looking for a romantic getaway. Having the train station right on your doorstep must be a huge advantage for anyone not getting a hire car! The only thing you need to do is sit back, relax and enjoy your holiday! Remember a holiday shouldn't be stressful, so don't let it be!