We are getting this question a lot. How far is Benidorm from Alicante or Valencia? What is the distance between Benidorm and Barcelona?
All this led to this extended page with a detailed overview on distances to neighboring towns and cities:
Distance from Benidorm to cities aound the Costa Blanca >>
How far is Benidorm from cities around Spain >>
Go to Benidorm City Information page >>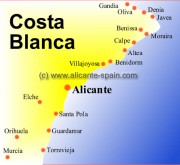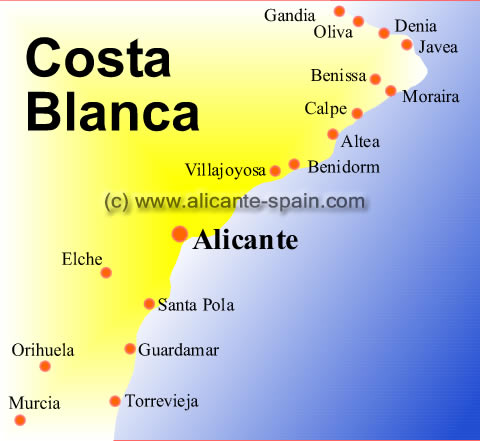 All distances given are in kilometers and miles measuring the straight line distance between the two cities. In other words, if you take the car and drive, the driving distance will be longer.
| Destination City | How far is Benidorm from important cities and towns in Spain and around the Costa Blanca | Further Information and Maps |
| --- | --- | --- |
| Alicante | Distance from Benidorm to Alicante is 37 km or 23 miles | see Alicante map |
| Alicante Airport | Distance from Benidorm to Alicante Airport is 47 km or 29 miles | see Alicante Airport |
| Altea | Distance from Benidorm to Altea is 16 km or 10 miles | see Altea map |
| Benissa | Distance from Benidorm to Benissa is 26 km or 16 miles | |
| Busot | Distance from Benidorm to Busot is 25 km or 16 miles | |
| Calpe | Distance from Benidorm to Calpe is 20 km or 12 miles | see Calpe map |
| Denia | Distance from Benidorm to Denia is 40 km or 25 miles | see Denia map |
| Elche | Distance from Benidorm to Elche is 58 km or 36 miles | |
| Finestrat | Distance from Benidorm to Finestrat is 8 km or 5 miles | |
| Gandia | Distance from Benidorm to Gandia is 48 km or 30 miles | |
| Guardamar Del Segura | Distance from Benidorm to Guardamar Del Segura is 68 km or 42 miles | |
| Javea | Distance from Benidorm to Javea is 38 km or 24 miles | see Javea map |
| La Manga Del Mar Menor | Distance from Benidorm to La Manga Del Mar Menor is 112 km or 70 miles | see La Manga map |
| Moraira | Distance from Benidorm to Moraira is 29 km or 18 miles | see Moraira map |
| Murcia | Distance from Benidorm to Murcia is 107 km or 67 miles | see Murcia map |
| Oliva Gandia | Distance from Benidorm to Oliva Gandia is 40 km or 25 miles | |
| Orihuela | Distance from Benidorm to Orihuela is 87 km or 54 miles | |
| Rojales | Distance from Benidorm to Rojales is 72 km or 45 miles | |
| San Pedro Del Pinatar | Distance from Benidorm to San Pedro Del Pinatar is 97 km or 60 miles | |
| Santa Pola | Distance from Benidorm to Santa Pola is 53 km or 33 miles | |
| Teulada | Distance from Benidorm to Teulada is 29 km or 18 miles | |
| Torrevieja | Distance from Benidorm to Torrevieja is 79 km or 49 miles | see Torrevieja map |
| Villajoyosa | Distance from Benidorm to Villajoyosa is 10 km or 6 miles | |
| | How far is Benidorm from important cities in Spain | |
| Albacete | Distance from Benidorm to Albacete is 158 km or 98 miles | |
| Barcelona | Distance from Benidorm to Barcelona is 373 km or 232 miles | |
| Bilbao | Distance from Benidorm to Bilbao is 575 km or 357 miles | |
| Formentera | Distance from Benidorm to Formentera is 138 km or 86 miles | |
| Ibiza | Distance from Benidorm to Ibiza is 141 km or 88 miles | |
| Madrid | Distance from Benidorm to Madrid is 371 km or 231 miles | |
| Malaga | Distance from Benidorm to Malaga is 429 km or 267 miles | see Malaga map |
| Palma De Mallorca | Distance from Benidorm to Palma De Mallorca is 266 km or 165 miles | |
| Santander | Distance from Benidorm to Santander is 629 km or 391 miles | |
| Seville | Distance from Benidorm to Seville is 530 km or 329 miles | |
| Tarragona | Distance from Benidorm to Tarragona is 310 km or 193 miles | |
| Toledo Spain | Distance from Benidorm to Toledo Spain is 367 km or 228 miles | |
| Valencia | Distance from Benidorm to Valencia is 106 km or 66 miles | |
| Zaragozza | Distance from Benidorm to Zaragozza is 353 km or 219 miles | |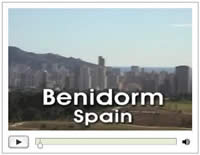 Benidorm City Overview and Video – click here